Embossed number plates in Nepal for a motorbike to introduce by citymoto in Uncategorized
Comment: 0
Embossed number plates in Nepal for a motorbike to introduce
UPDATE ( 6 July 2020)
Issuing Noticed by The Department of Transport Management, the embossed number plate in Nepal will be affixed from July 16, 2020, onwards. According to the department of transport Management Nepal, embossed number plates will be installed for the vehicles registered in Bagmati Province in the first phase.
If anyone applying for Embossed Number, They must clear the Annual Tax or remaining dues of the Vehicles.
According to the notice by the department, charged for replacing the Embossed Number plate will cost Rs 2,900 for three-wheelers, Rs 2,500 for motorcycles and scooters, Rs 3,200 for small and medium jeeps and Rs 3,600 vehicles and above.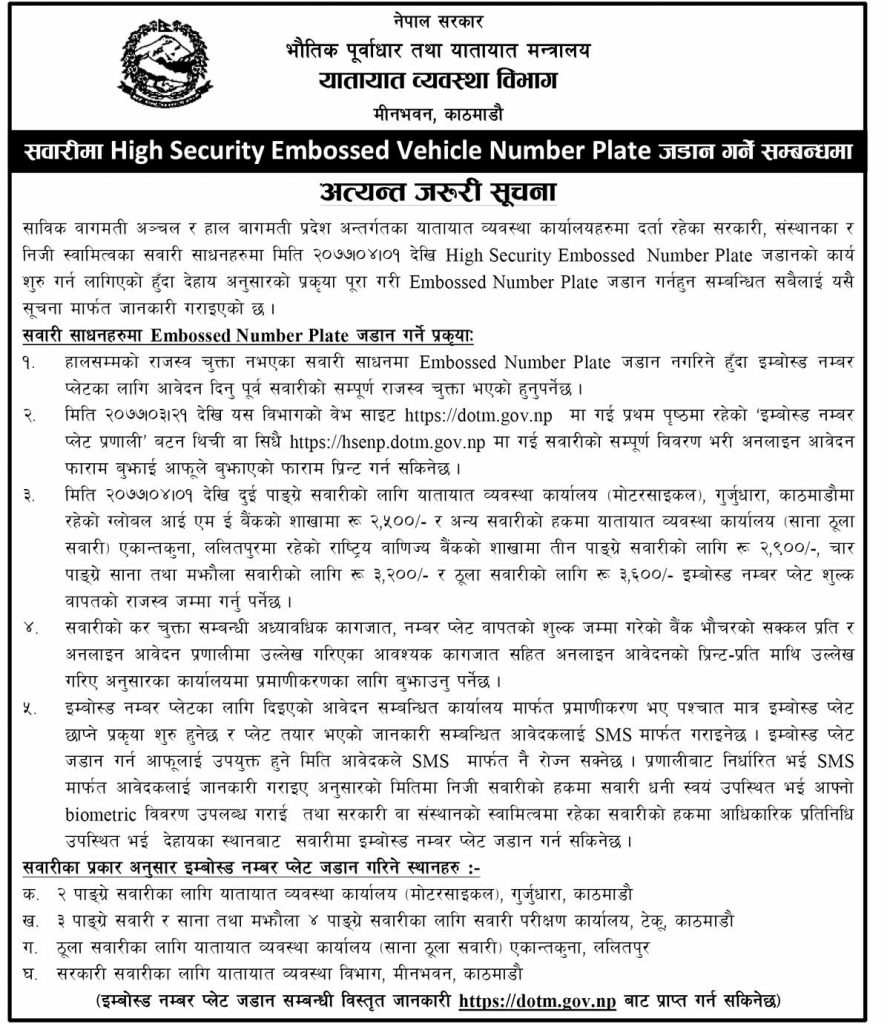 — — —
News from Feb 12, 2018
The Government of Nepal is going to introduce the embossed number plates for Motorbikes starting from this Falgun 2074 B.S. Earlier Nepal government has announced embossed number plates for only private vehicles.
The Department of Transport Management is going to fix embossed number plates in Nepal in order to make them technology friendly and to protect from being stolen. The department said that the embossed number plate system will be implemented from the Nepali new year 2075 B.S. and targets to fix on all the vehicles in the country over the next five years.
The embossed number plates are based on high-security computerized technology that would help to protect vehicles from being stolen and locate it in case of accidents too. It will have a chip connected with a GPS system of a vehicle.
The locals can request for the embossed number plates from www.dotm.gov.np OR www.hsenp.dotm.gov.np .
An individual requires to fill up a detailed online form and pay around Nrs. 2500/- to Department of Transport Management at Matatirtha, Kathmandu, or the recommended bank.
One important thing to keep in mind is that the tax of the vehicle should be clear till date to be applicable to request the number plate. And once the number plate is fixed on the vehicle, it cannot be detached. If it needs to be detached, it must be cut.
Steps for Embossed number plate: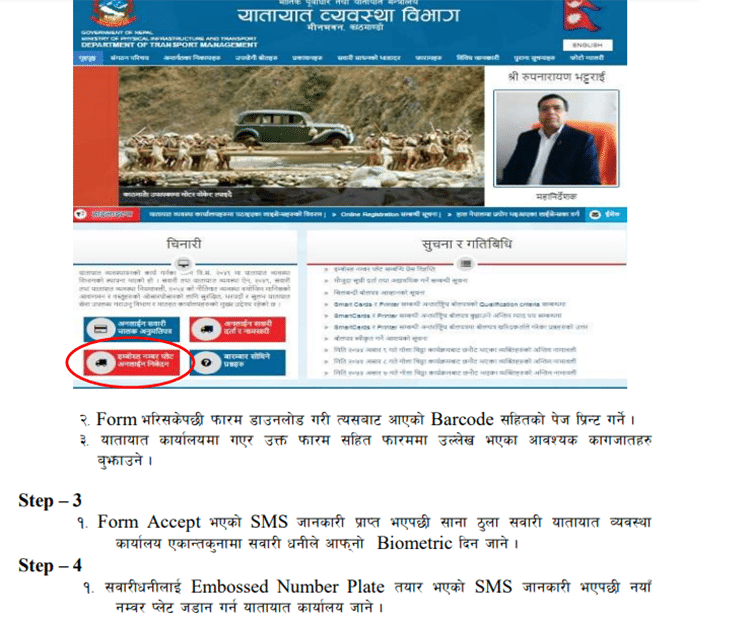 Image source: https://www.dotm.gov.np
Merits:
The embossed number plates will help keep a digital record of vehicles
The plates come with a radio-frequency identification system, that would reveal the model and manufacturer's and user's name
The radio-frequency identification system also tracks the movement of vehicles.
In case of theft, it can easily be found.
Check how apply for Embossed Number plate online here: https://www.dotm.gov.np/ 
Read more details about Embossed number plate: https://www.dotm.gov.np
News Source: Setopati.com
myRepublica.nagariknetwork.com