Ghorepani Poon hill Motorcycle tour – 7 Days

Ghorepani Poonhill Motorcycle Tour – 7 Days
Motorbiking tour in Nepal is one of the adventure tours that are full of surprises and will give you a great view of the evergreen forests along with the snowcapped Himalayas, beautiful temples and monasteries. It is a divine and sheer adventure that will be engraved in your memory for a lifetime. That's why City Motorbike offers you a 7-day motorcycle tour to Ghorepani poon hill which is one of our favorite tours in Nepal.
Ghorepani poon hill is a famous destination for short trek among tourists before recently road is a build-up to poon hill so we can go Ghorepani poon hill by motorcycle with a bit of offroad ride. Drive to Ghorepani Poonhill makes it easier for those who are lazy on trekking.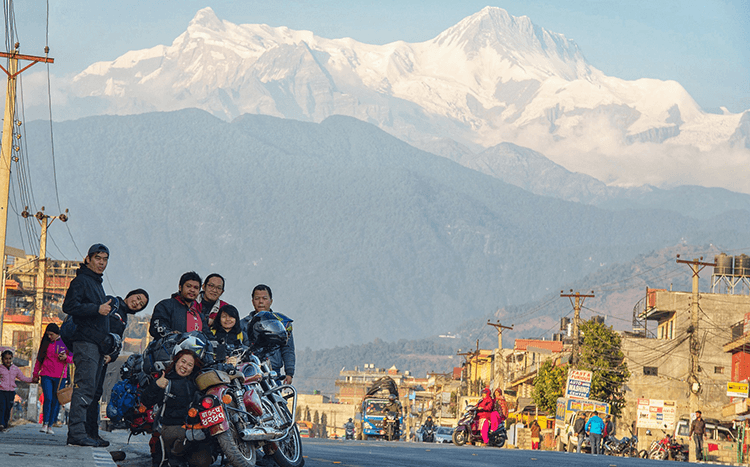 This tour will take you through ethnic villages with age's old ancient trails, scenic lush hills, and rhododendron forest, along with some challenging roads. Ghorepani is a northern-central village in the Myagdi District in the Dhaulagiri Zone of Nepal.
The village lies within the Annapurna Conservation Area (ACA] and contains a number of "guest houses" that provide lodging and meals to tourists, many of whom spend the night before a pre-dawn trek to the top of nearby Poon Hill to watch the sunrise. It lies at an elevation of approximately (3210m/10531ft.). The construction of new roads has made tourism as the main income source for residents of the village.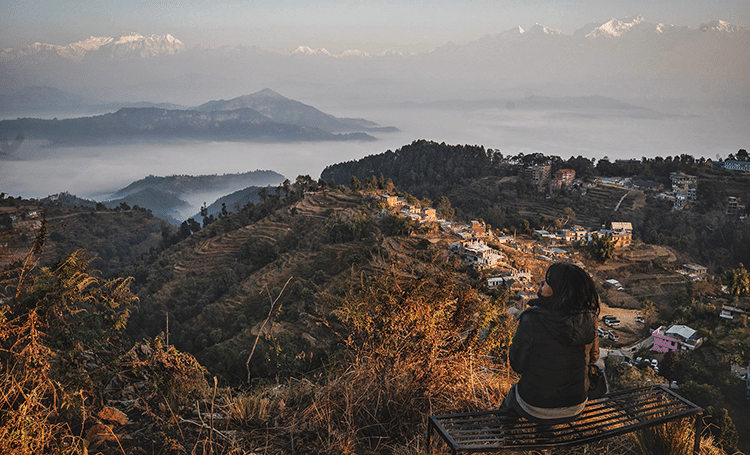 We can also encounter wild animals and many types of birds along the road. You will be surrounded by spectacular snow-capped mountains, rivers, breathtaking waterfalls, and other amazing landscapes.
In the way you will also get to travel through Pokhara which is Nepal's number 1 adventure and leisure destination, a gateway to treks in the Annapurna region with plenty of entertainment for individual travelers and their families as well. In Pokhara, you can experience the excitement of adventure: boating, hiking, pony rides, paragliding, bungee, zip line or simply relaxing at one of the several lakes in the valley. Therefore Ghorepani tour is one of the best experiences and an opportunity to explore while celebrating your holidays in Nepal.
Ghorepani poon hill is a perfect hill station destination to see Annapurna & Dhaulagiri range.
Trip Facts:
Ghorepani Poon hill Weather
Best time to go for Ghorepani poon hill on Motorbike from March to May, and September to November during this time weather is clear with splendid views of the mountains and moderate temperature.
Distance from Pokhara to poon hill on a motorcycle
Total: 115Km
TRIP HIGHLIGHTS:
Adventurous Offroad Experience 
Observation of local culture, people & village.
Spectacular Snow Capped Mountains, Rivers, Breathtaking Waterfalls,
Ethnic villages with age's old ancient trails, scenic lush hills, and rhododendron forest,
Natural Hotspring
Sunrise View From Poonhill
Ghorepani Poon hill Motorcycle tour Itinerary: 
Day 1: Arrival at Kathmandu – 1300m altitude
We will pick you up from the international airport and transfer to your respective hotel. if the time permits, we will have a briefing about the tour program bt one of the representatives.
Day 2: Kathmandu – Pokhara (800m altitude) – 200km, 6hrs ride (pitch road)
After breakfast, we will start riding early in the morning. it is a 6-hour ride through the main highway from Kathmandu to Pokhara. Pokhara is one of the top destinations for tourists; it is a remarkable place full of natural beauty which is situated at an altitude of 900m above the sea level and 200km west of Kathmandu valley.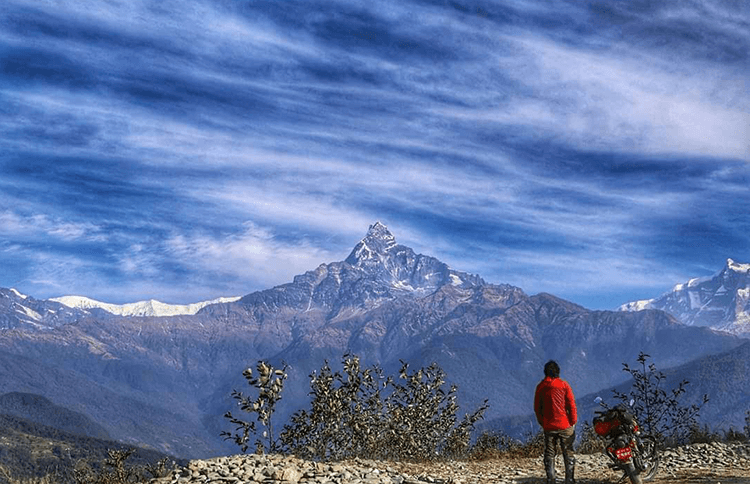 Pokhara will overwhelm you with its natural beauty and great photo ops. you can enjoy walking along the shores of the Phewa Lake, with the greenery surrounding you and gaze at the spectacular panoramic view of the Himalayan peaks of the Annapurna massif while admiring the stunning reflection of the fishtail peak in the blue Phewa Lake where you can see brightly painted wooden boats which adds vibrant colors to the greenery, while paragliders float down slowly from above.
Day 3: Pokhara – Tatopani (1200m altitude) – 95km, 5hrs ride (pitch + gravel road)
The second day of the ride is going to be more adventurous as we ride through the narrow mountainous highway from Pokhara towards the peaceful town of Beni where kali Gandaki river flows. this ride is full of natural wonders and it also warns riders to be extra careful while riding because the raging Mardi river flows right below the road. the rich and lush vegetation and breathtaking waterfalls along the road will feast your eyes. beyond beni, challenges increases as the ride go along the rugged mountainous terrain.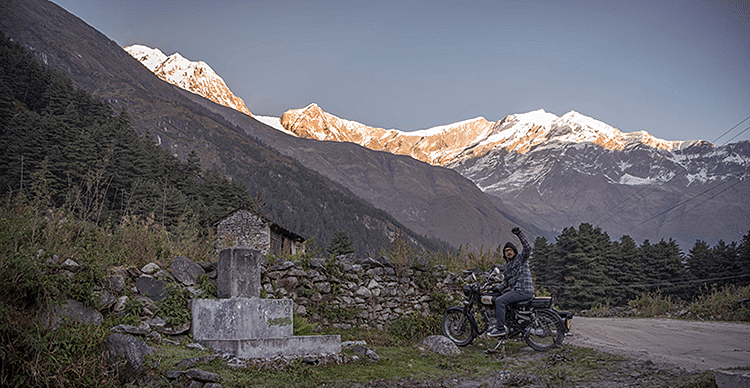 It also caters to the magnificence of the Himalayas dominated by Dhaulagiri, Annapurna, and fishtail. the famous stopover point is Tatopani, where we can rejuvenate your body in natural hot spring. We will ride through Beni to our Motorcycle tour to Lower mustang. So on this tour, we will be also on the same route going to till Tatopani.
Day 4: Tatopani – Ghorepani (2860m altitude) – 20km, 3hrs ride (off-road)
The ride begins through the renowned pun village with beautiful rhododendron trees, forest, landscape & terraces where you will be welcomed by birds chirping as we pass through the British Gorkha training center.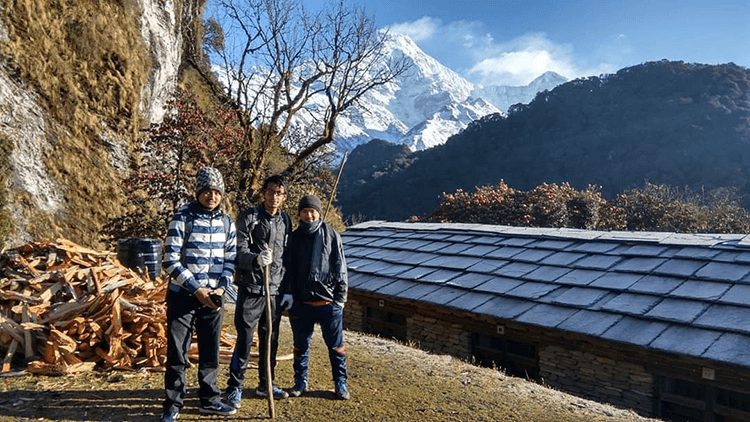 Day 5: Ghorepani – pun hill (3210m altitude) – ride back to Pokhara – 115 km, 6hrs
We will wake up early morning at 4-5am and walk to poon hill before breakfast for sunrise. it is a walk less than one hour which will lead you to poon hill with one of the best breathtaking panorama viewpoints in Nepal. we can see the famous mountain ranges from Dhaulagiri to Manaslu ranges including the fishtail mountain. it is one of the experiences which will make your tour worthy.
View from Poon hill
After you return to the hotel we will start our ride after breakfast. the first part of the road will take you to chitre village, crossing the few guest house, continues till we reach sikha. the trail will lead us to the way to ghara small village. after crossing the durbin danda (the hill of best view) steeply down to reach kali Gandaki river bank which is also called ghar khola, and then we continue our ride all the way to Pokhara.
Day 5: Explore Pokhara valley.
this day we will ride to the major highlights of Pokhara. we will begin with the ride to Davis fall, Gupteshore cave and Tibetan refugee camp. then we will ride to the hilltop SarangKot, which caters exceedingly beautiful and widespread views of the Himalayas. Sarangkot is also the hub of aerial adventure and hence if you have desires to give a try to paragliding go ahead at Sarangkot. riding down the road that penetrates lush vegetation we will arrive back to lakeside. enjoy the delicious lunch and then resume the exploration of Pokhara.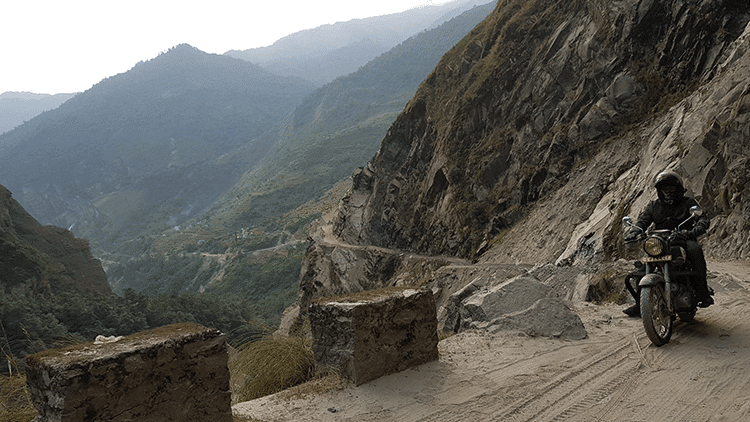 Day 6: Ride from Pokhara to Kathmandu – 200km – 6 hrs
The final day of the "best of Nepal ride" takes numerous twists and turns on the Prithvi Highway that stretches right above rushing Himalayan rivers most of the time all the way to the Nepalese capital, Kathmandu. rural culture, river landscapes blended with forested land are the major highlights of last day ride.
Day 7: Final departure
City motorbike will drop you to the international airport for your final departure. it is important to reach the airport before 3 hours from the original flight time.
TRIP INCLUDES: 
Airport Pickup and drop
Permits
local staffs (Guide, Mechanics) wages, accommodation, and food
Breakfast, Lunch and dinner 
Spare Parts for Motorbikes
Motorbike with fuel for the entire trip.
Hotel and lodge with B/ B plan in Entire trip (Twin sharing Basis/ Single room with Double bed)
Farewell dinner
TRIP EXCLUDES: 
 beverages during the entire trip.
World heritage site entry fee, 
Travel rescue, insurance, Bike Insurance
Tips for Guide and Mechanics, Bike gears,
International Airfare
Nepali visa fee, Bar bills, Cold drinks, etc
Repair charge for any physical damage on motorbikes, Personal expenses, etc
Group: For this trip Minimum 2 riders are required. We can also organize this trip or one rider. 
More group you have more discounts on rates. 
Feel free to write to us, if you have any questions. 
Note: Trip Itinerary can be changed according to your request. Please write to us at citymotorbike.com@gmail.com for more details.
Book Now