Visa on arrival and Quarantine protocols for Nepal Travelers (Updated Oct 4, 2021) by citymoto in Uncategorized
Comment: 0
Visa on arrival and Quarantine protocols for Nepal Travelers (Updated Oct 4, 2021)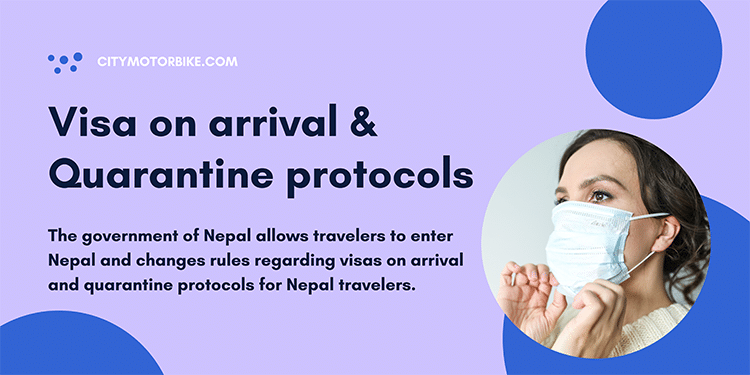 After two years, finally Government of Nepal allow travelers to enter Nepal and changes rules regarding visas on arrival and quarantine protocols for Nepal travelers, here is the details rules pointed out below:

For Fully vaccinated people:
Travelers should be fully vaccinated at least 14 days before they travel to Nepal.
Travelers need to provide  document of Covid-19 vaccine certification in English dated 14-day prior.
No quarantine required for Fully vaccinated people.
Negative Covid-19 test report (Ideally with photo), 72 Hours or less before the Flight.
Hotel booking in Nepal confirmation proof.
Fill up the CCMC form from this link and print the bar code page (mandatory) which you need to provide at Nepal Airport.
Documents required to submit at the Immigration of TIA Airport for non-vaccinated people:
No on arrival visas for Non- Vaccinated Travellers
You must get a visa prior to departure
10days Hotel Quarantine at your own cost at selected Quarantine hotels in Nepal.
Once you arrived in Nepal, if tested positive on antigen testing, you need to quarantine for 10 days at your own cost. You need to do a PCR test on the 11th day, if negative, then you are free to travel around.
PCR tests, quarantine, and insurance will be at your own cost.
Get a recommendation from your Travel/ Trekking / Tour agents
Apply for visa from Nepal embassy or Consulate in your country or nearest.

More on  Nepal Tourism board (PDF Document)
Travelling to Nepal soon? Looking for motorcycle rental in kathmandu? Check here for rates for motorcycle rental in Nepal