Being a Heir, Giving that Extra percentage of yours makes things better by citymoto in Uncategorized
Comment: 0
In Nepal, It has always been a trend to take on your grandparents/ parents business and boost it up with your own style. This is a story of similar kind of business that has passed on generations and now booming in the area of repair and maintenance and motorbike tourism, centered in the most happening tourist place in Thamel, Kathmandu.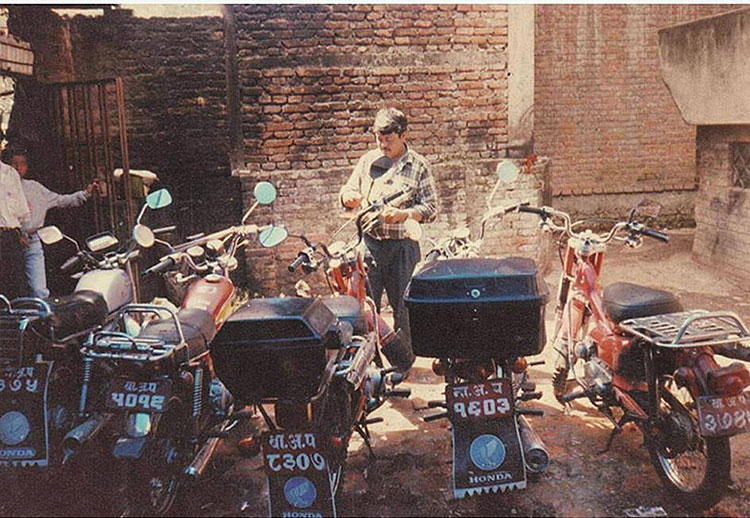 Late Ram Krishna Maharjan during Dashain festival 
City motorbike was a Motorcycle Repairing Center in Thamel, Kathmandu ongoing for more than 35 – 45 years now and still going on with the enthusiastic heirs. With the passion and that heart to go an extra mile for their customers has brought them to this level.  They have defied the expectations of their customers and brought a different level to their profession. So, here is the story of them and their journey.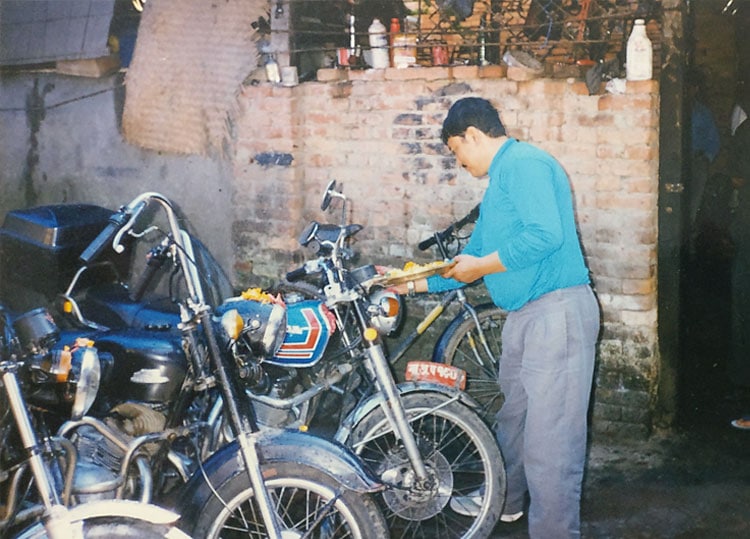 Late Ram Krishna Maharjan during Dashain festival 
It's a journey of cousin brothers, Late Mr. Ram Krishna Maharjan and Tirtha Maharjan. They started off with a small repair center inside a small alley of Thamel. When they started off, they were just following their hobby and interest in repair and maintenance of bikes with few staff of their own. Their service was so good and above the expectation that their business flourished.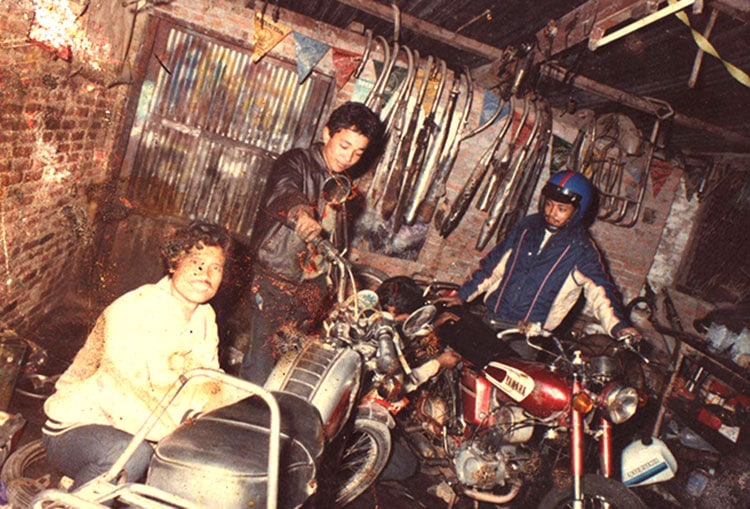 In this photo: From Right Late. Ram krishna Maharjan, Tirtha Maharjan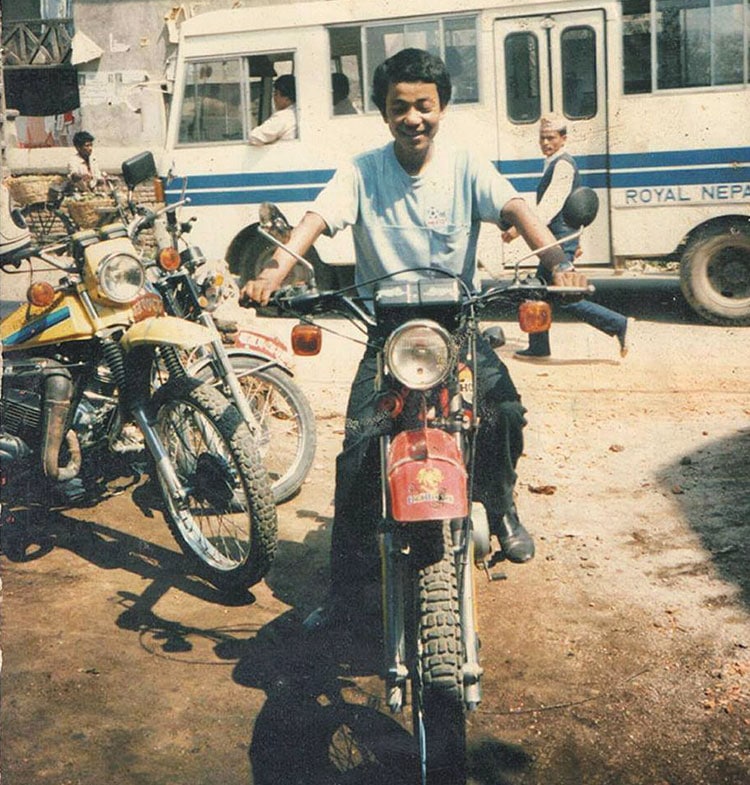 In This photo: Mr. Tirtha Maharjan with Honda XL
In the early 90s, their eldest brother's son Mr. Baburaja Dangol joined the joint venture of his uncles. He joined the Motorcycle workshop in 1987  Until then, Mr. Buddharanta Maharjan (son of Late Mr. Ram Krishna Maharjan) was a school going kid.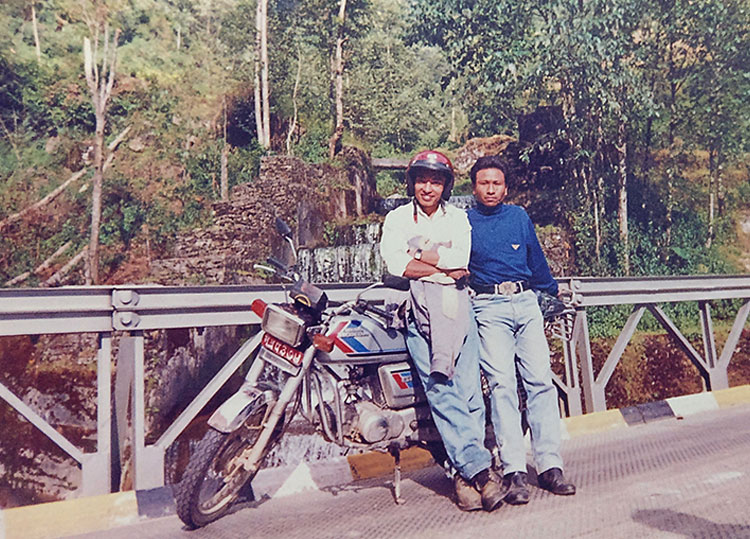 In this photo: Mr. Buddha Ratna Maharjan
In this photo: Mr. Buddha Ratna Maharjan
He used to come to the workshop with his daddy on his seasonal holidays.  He used to have a lot of interest in Mechanical engineering from his early childhood. Looking at his brother Mr. Baburaja doing a part-time job in his school-going days, he also wanted to be there someday.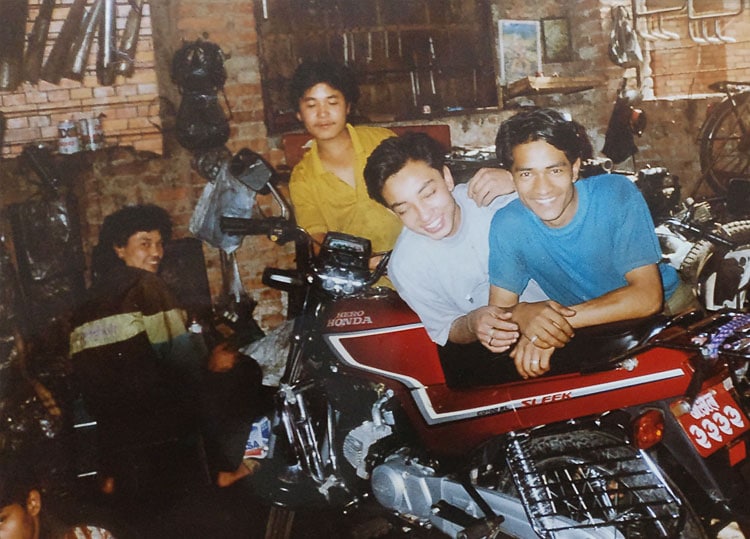 In this photo: Mr. Buddha Ratna Maharjan & Mr. Babu Raja dangol
Mr. Baburaja got his training from his mentor's uncle Late Mr. Ram Krishna Maharjan and Mr. Mahendra Bir Malakar (one of a friend). And the little kid Mr. Buddha used to get some enlightenment from his father. They both were taken into the words of Late Mr. Ram to be an honest and hardworking person. After finishing up his schooling, Mr. Buddha joined in the workshop with his dad, uncle, and brother in 1988.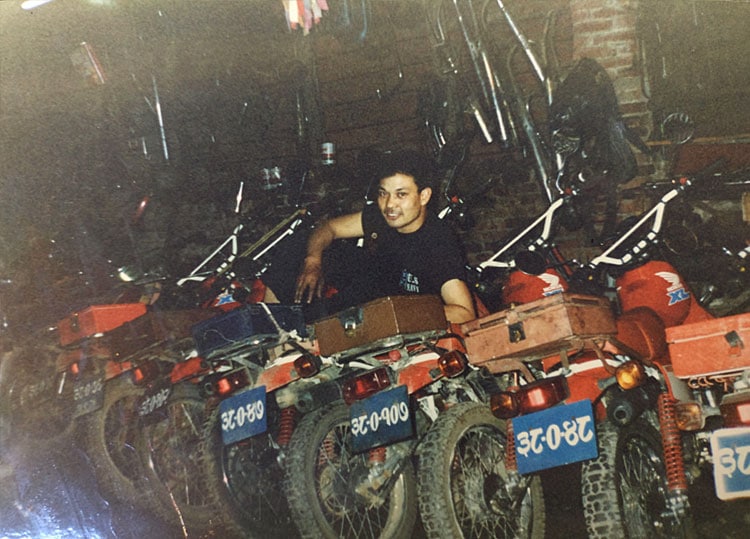 In this photo: Mr. Baburaja Dangol with Honda XL bikes
In this era, there used to be less variety of bikes. But the popular ones were Honda, Yamaha, Suzuki, Kawasaki, etc. Both the young brothers were in love with the Japanese company's bikes. So, they had Honda CG125 and Honda CD100 with their savings. At their young age, they took on their parent's repair center and gave their best till 2013.
In this photo: Late Ram Krishna Maharjan
In this photo: Late Ram Krishna Maharjan
It's when their younger cousin brother Mr. Sujan Maharjan  ( Son of Mr. Tirtha Maharjan) came to them with new enthusiasm and a great idea City Motorbike. He started his working career from Vairab Interactive Pvt. Ltd. (Digital Marketing Company in Kathmandu).
After working for around 6-7 years, With the proper guidance and mentorship of Mr. Kumar raja Maharjan (Vairab Interactive Pvt. Ltd.), Mr. Sujan started to give shape to his idea of starting Motorbike hire & Tours in Kathmandu, Nepal.
He felt a lot of potential in Motorbike tourism in Nepal while working on a project for Yentra.com. He did a lot of research on motorbiking and motorbike Tour companies in Nepal along with the repairing centers with his two elder brothers. That's how the Journey started with City Motorbike.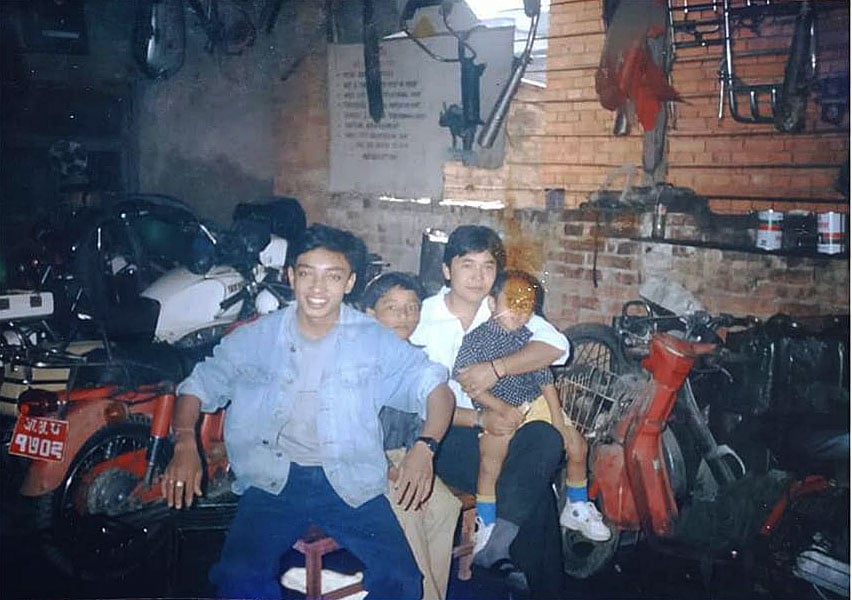 In this photo:  Mr. Sujan with Yellow shorts and Mr. Buddha Ratna in Blue leather jacket.
Nepal is popularly known as a destination for trekkers and mountaineers, Nepal is quickly becoming a popular destination for Motorbike bike riders now.
Some came to Nepal with their own motorbike whereas some rent a motorbike in Kathmandu for their travel to different parts of Nepal. Then the journey of the City Motorbike (motorbike repair center, bike rental service, motorbike tour service center in Nepal) started in 2015.
To date, Late Mr. Ram Krishna Maharjan had retired and expired, whereas Mr. Tirtha Maharjan owns his own motorbike repair center in another place of Kathmandu and the three heirs are continuing their journey on City Motorbike with their enthusiasm and a step more care for their customers.
In this photo: Tirtha Maharjan
The service center is still remembered with their father's name. And their hard work has gained them with more than 2000 clients from different parts of the world and now operating motorbike tours in various parts of Nepal.
If you are traveling to Nepal on Motorcycle don't forget to reach them for tours & rentals and also for Motorcycle repairing. You can check their Motorcycle tour packages itinerary and fixed departure dates here if you want to join them.
We organise a motorcycle tour all over Nepal in a Association with Budget Adventure Treks.
Follow them on social media to get more on Motorbike tours!
Facebook: https://www.facebook.com/citymotorbike/
Instagram: http://instagram.com/citymotorbike
Text by: Sujita Prajapati