Tibet Motorcycle tour – 15 days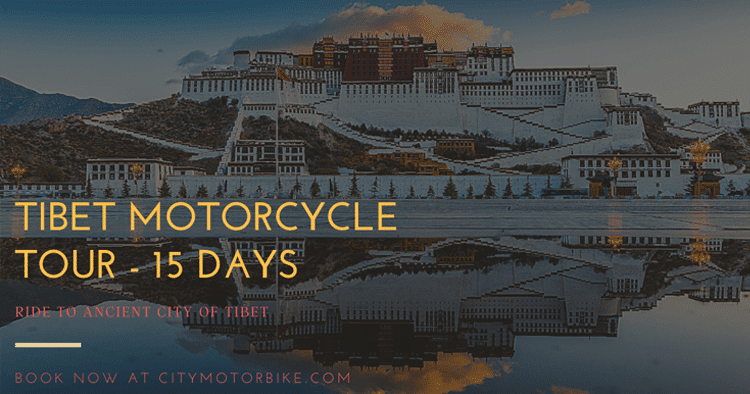 Duration: 14 DAYS, Max Altitude: 3,800M, Best Time: Mid April to September.
MOTORCYCLE TOUR TO TIBET
Imagine yourself riding along the empty road with the barren treeless scenery of the Tibetan Plateau, a small tribe of people with the ancient Tibetan culture and lifestyles, herdsman grazing their animals, all in the lap of highest mountains of the planet. It not only sounds divine but it is a sheer adventure that will be engraved in your memory for eternity.
That's why City motorbike brings you a Tibet motorbike tour from Nepal with the full of the sheer joy of freedom. Therefore ride on your roaring bike and travel past the holiest Buddhist sites along with the world's highest peak. This action-packed ride will send a chill in your spine and will fulfill your childhood dream.
This is an opportunity to ride the Himalayan Range as well as explore cities renowned for their culture and the mystical charm.
As you ride from Kathmandu to the ancient city of Tibet, you will explore the vast landscape between these two cities through one of the most remote roads in the World with the mighty Himalayas by your side.
Tibet is the traditional homeland of the Tibetan people as well as some other ethnic groups such as Monpa, Tamang, Qiang, Sherpa, and Lhoba peoples. It is one of the highest regions on Earth, with an average elevation of 5,000 m. Undoubtedly, the most outstanding experience for any biker is the chance to ride across the World's Highest Plateau, It is a temptation that none could resist. Taking and driving your motorbike on the highest roads in the world is the ultimate ride. It will take you through the mountains and valleys, past lakes and monasteries.
Anyone with a love of bikes and nature understands the feeling of the wind on your face and the Himalayas in your view. And while this dream may look like an impossible task, we offer you a Tibet Motorcycle tour with once in a lifetime experience.
Itinerary for  Tibet Motorcycle tour:
DAY 1: Arrive in Kathmandu international airport and transfer to hotel overnight at the hotel

We will pick you up from the international airport and transfer to your respective hotel. if time permits, we can discuss all the tour, motorbike, and final Tibetan visa.

DAY 2: Trip preparation and overnight at hotel

This day is to prepare for the tour.  we will have a tour briefing together with the riding team, mechanic, and team from city motorbike. you will also do a test riding with your bike around Kathmandu valley. and stay overnight at Kathmandu.

DAY 3: Motorbike to kerung from Kathmandu. (124km – 8 hours) overnight at guest house 2,900m

We will start riding very early in the morning. it is a very long day journey through remote road to Langtang national park till rasuwagadi through Nuwakot, Dhunche, Shyabrubesi. cross Nepal Tibet border at rasuwagadi and ride another 24 kilometers to reach kerung, which is the first Tibetan town.

DAY 4: Take a day rest in kerung. ride up to kerungthing and back to kerung for overnight at guesthouse

it is a rest day which will help your body to be acclimatized in altitude. we will also try to ride around the town and maybe reaching up to second kerung town (kerung thil) altitude almost 4000 meters. and be prepared for the next ride into scenic Tibetan road near Everest.

DAY 5: Motorbike to Tingri (255 km – 7 hours) overnight at guest house 4,300m

We will ride in big and well-paved road over highland of big Tibetan plateau. the Himalayas are stunning from high passes. explore beautiful lakes and the local settlement with their daily unique activities. Tingri is a unique Tibetan town from here, we can see Mount Everest view and other neighbor mountain peaks.

DAY 6: Motorbike to Everest base camp (5,200m) and ride back to the Rongbuk monastery. overnight at guest house 5,000m

we will reach the base camp of Mount Everest north side. and ride through the Rongbuk monastery. exploration and ride back to Rongbuk for overnight. Rongbuk is the last tea house point near Everest base camp. a clear view of Mount Everest and another mountain can be seen from here.

DAY 7: Spend the easy morning at Rongbuk with the scenic view and ride back to Tingri. overnight at the guest house,

we will spend our morning with a majestic view of Mount Everest and other Himalayan peaks and will visit the oldest Rongbuk monastery nearby. and later ride back to Tingri via the same road.

DAY 8: Motorbike to Shigatse (220 km – 6 hours). overnight at hotel 3900m

We will travel from Tingri to Shigatse highway crossing several high passes decorated with Buddhist prayer flags, Tibetan nomad live, beautiful lakes, and mountain. Shigatse is also the second-largest city in Tibet. we will visit Tashilhunpo Monastery and stay overnight at a hotel.

DAY 9: Motorbike to Lhasa (270 km/ 7 hours). overnight at hotel 3,700m

we will ride again on the main highway. today it is more greenery and scenic. we will see the Lhasa river, a busy road with big lorry, bus and car. we will reach Lhasa and transfer to the hotel and do an evening walk around the city and dinner place.

DAY 10: Spend day in Lhasa. visit Potala palace, Jokhang temple, and walking around Tibetan streets. overnight at the hotel,

our guide will lead you to visit major attractions. we will visit major historical places in Lhasa, visit Potala palace – the palace of Dalai Lama, Jokhang temple, and walk around the old city of Lhasa Barkhor bazaar. we will be back to hotel and overnight.

DAY 11: Motorbike to Shigatse (270km – 8 hours) via Yamdrok lake. overnight at hotel 4,000m

We will start to ride back from today. we will ride to the second largest city of Tibet Shigatse with beautiful Yamdrok lake and the view of mount nojin kangsang on the way. passing several high passes and get a clear view of Tibetan Himalayas and giant glacier called Karola Glacier 7200 miter high. Shigatse is the administrative center of west Tibet.

DAY 12: Motorbike back to saga (320km – 9 hours) overnight at guest house 4450m

We will ride to the saga, get a way of mount Kailash, and lake Manasarovar. we will leave the Shigatse region and enter Nagri region. the high mountain views are more stunning from on the way. total riding is quite long today. saga is another small city facilitated with guest houses, Tibetan, Chinese restaurants and shops.

DAY 13: Motorbike back to kerung (230km – 6 hours) overnight at guest house 2,900m

We will ride towards kerung border and towards Kathmandu Nepal. it is the first Tibetan town from rasuwagadi nepal. we stay overnight at kerung before 24 kilometers from Nepal Tibet immigration.

Day 14: Motorbike back to Kathmandu (124km – 8 hours) overnight at hotel 1400m

Ride 24 kilometer from kerung town to Nepal Tibet border rasuwagadi. after immigration formality, ride back to Kathmandu via shyaprubesi, dhunche, and Trishuli. it is quite a long day riding in mountain road Nepal.

Day 15: Trip ends, departure

A city motorbike team will drop you to the international airport for your final departure. it is important to reach the airport before 3 hours from the original flight time.
Trip Includes: 
Kathmandu international airport arrival and departure service
5 nights hotel accommodation in Kathmandu with breakfast
Kathmandu valley sightseeing with bike
One supporting Jeep/Van
All Necessary Tibet travel permit and EBC permit
Bike permit
English speaking Tibetan guide
Accommodation on twin sharing room basis except at guest house with breakfast
Sightseeing and monastery entrance fees as per itinerary
Fuel for bike
Chinese driving license
One Mechanic from Kathmandu
Deposit amount in Chinese custom (Approx $ 1500)
One Motorbike each as per selection from the list
Trip Excludes: 
International flight tickets,
Nepal multiple-entry visa fee,
bar bills, laundry, emergency rescue, and personal insurance. 
Lunch and dinner in Kathmandu
Travel rescue, insurance, Bike Insurance
Tips for Guide and Mechanics, Bike gears, International tickets, 
Nepali visa fee, Bar bills, Cold drinks etc
Repair charge for any physical damage on motorbikes, Personal expenses etc
Important Note: 
Participants must arrive in Kathmandu at Least 2 Days Before tour start Dates.
Valid passport copy by email
Original passport 3 days before in Kathmandu Nepal for your final Tibetan visa
One copy photograph for the visa (White background, without eyeglass and clearly seen your both ears)
An international driving license is mandatory. Minimum 4 pax required.
We suggest bringing your own complete motorcycle gear (helmet, boots, gloves, suit incl.
protectors/back protector.
We suggest bringing your personal travel insurance,  medical insurance,
Please follow the tour leader's instructions during the trip.
Please take care of your own equipment and motorbike. A city motorbike will not be responsible for any loss of equipment costs for recovery.
Tibet Tourism Bureau takes one week's time to approve the travel Permit. Sometimes it takes more than a week 
Permit procedure is 45 days before tour starts
Read our Faqs on Motorcycle tour in Nepal
SINGLE ROOM SUPPLEMENT: US$ 480.00 Per Person.
Extra:
American National Tibet/China Visa fee US$ 190.00
Other Nationals Tibet/China Visa fee US$ 145.00 for Other Nationals
Lhasa/Kathmandu one way airfare US$ 489.00 Per Person
STARTING TRIP COST

– 5200 USD PER RIDER

Note: The More rider in your group you will get more discounts on rates. 
Feel free to write to us at citymotorbike.com@gmail.com for more details.

Book Now