Motorbike tour to Manang – 10 Days

DURATION: 10 DAYS,  RIDING: Challenging, BEST TIME: Sep-Dec, Feb -July
Motorbike tour to Manang: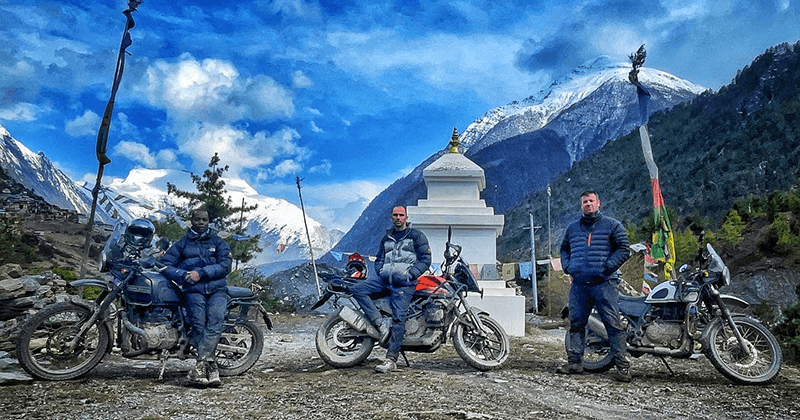 A combined journey of nature and culture, a trip that offers unlimited nature sights including thrilling waterfall, wild glacier river, an unspoiled jungle of different vegetation, and high snowcapped mountains carry you on a journey through premises of highest altitude lake in the world which will excite you from beginning to the end of your side.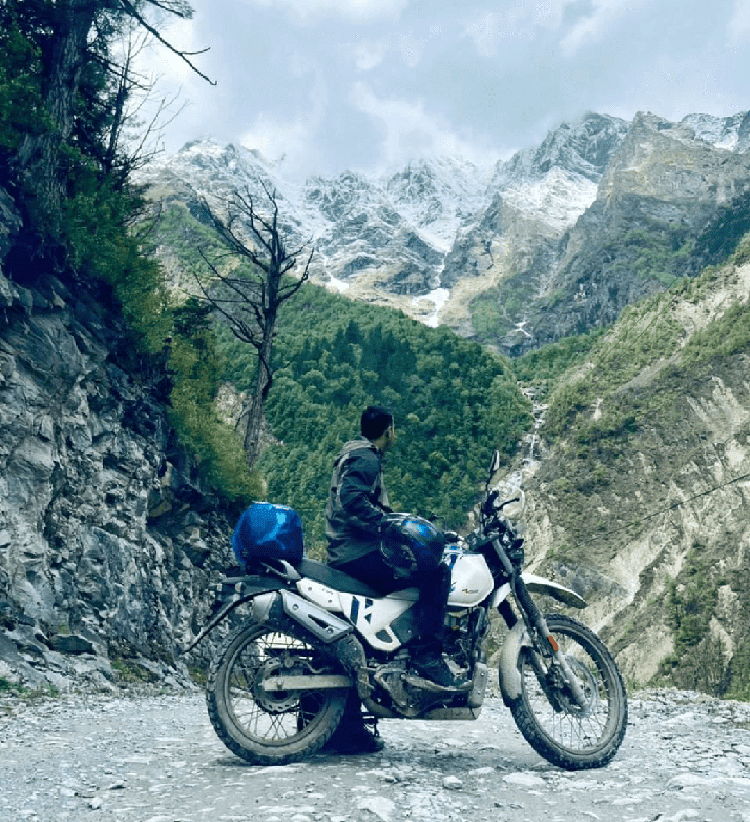 Manang motorbike tour is one of the top fascinating adventure off-road bike tours in Nepal.
You will be traveling around 600 km in 10 days on your bike freely along with professional guides
to help you in all the manner.
The 10 Days Motorbike tour to Manang will start from arrival to departure with an experienced guide as you spend your holidays. Our 8 days Manang motorcycle tour Itinerary will cover the bike, guide, fuels, and required Permits including the package trip of Manang bike riding tour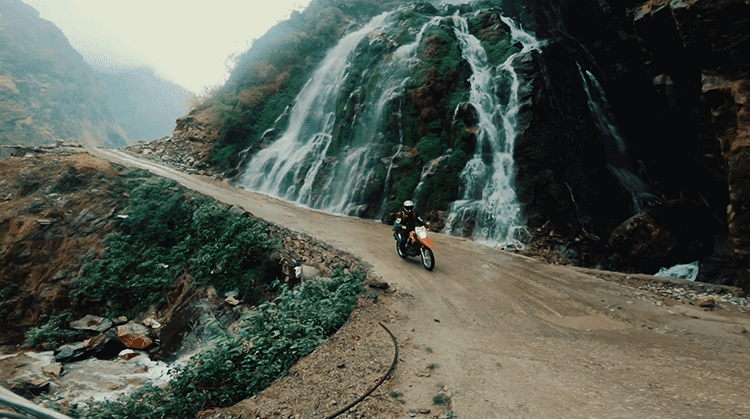 Tilicho Lake is a holy place that carries a historical and pilgrimage importance and is also mentioned in a mythological Hindu book Ramayan. Hindu pilgrims and devotees from all over the world visit the place for worship and pilgrimage.
Way to #Manang, NepalVideo cr. @akstha #motorbiking #Biketrip #adventure #honda #dirtbike #nepalnow #Nepal #hondacrf #offroad #roadtrip

Posted by City Motorbike on Thursday, October 5, 2017
Video by Anil Shrestha
Our ride to Tilicho Lake gives you an opportunity to experience its magnificence as it is an isolated ice Lake 4,919m high land above seas levels. Your journey will begin from the capital city Kathmandu and continue on the Canyon of Marshyangdi River then finally arrived open valley on the laps of the Annapurna mountain range.
As you get away from the city you will truly experience the natural beauty of Nepal with a stunning view of diverse landscapes and high mountains view in alpine terrain.
A motorcycle tour to Manang is the ideal tour for those who are looking for adventure and want to experience natural beauty at the same time.
Snow in Manang valley.
Trip Highlights:
Observation of local culture, people (Gurung, thakalis) & village.
Gompa (Buddhist monastery)
Waterfall on the way.
Tilicho Lake is the highest located lake in the world.
Detail Itinerary for Guided Motorbike tour to Manang

:
We will pick you up from the international airport and transfer you to your respective hotel. if the time permits, we will have a briefing about the tour program with one of the representatives.
DAY 1: KATHMANDU TO BESISAHAR
After breakfast, we will start riding early in the morning through the main highway from Kathmandu to Besi Sahar. it is a 106 km/66 miles drive from Kathmandu. though it is a short distance ride, you will have the most adventurous trip today and reach the beautiful town named Besishahar. it is a municipality and the district headquarters
of Lamjung district in Gandaki Pradesh, Nepal which is also known as a gateway to Manang. you will spend your night in Besisahar in the guesthouse.
DAY 2: RIDE FROM BESISHAR TO CHAME
After breakfast, we will continue our journey. the first 32 km is an undulating climb on a dusty road. we will hike a bike through a steep, rocky, trail to the Taal village. they also say a piece of heaven falls in Taal village of Manang district. we will be traveling 66 km/41 miles of offroad trails at the altitude of 2715 meters to Chame.
Chame is the headquarters of the Manang district in the Gandaki Zone of Northern Nepal. you can expect amazing scenery throughout the tour. we will have an overnight stay in the guesthouse at Chame.
DAY 3: RIDE FROM CHAME TO MANANG VALLEY
We will continue our journey which is 31 km/19 miles away from us at an altitude of 3341 meters
|and reach the Manang valley. Manang is a town in the Manang district of Nepal. we will have an overnight stay in the house at Manang valley.
Video from Manang tour
DAY 4: FULL DAY IN MANANG VALLEY AND VISIT TO KHANGSAR
Today we will start our journey late so you could have some rest in Manang valley. it is one of
the biggest and most beautiful villages with a magnificent view of Gangapurna mountain and its glacier and the Gangapurna lake along the side of the Marsyangdi river which can be viewed from the window of almost every hotel. the dry rocky terrain somewhat resembles mustang, yet differs slightly from lush green forests in Manang valley. the village is blended with old traditional mud houses to modern hotels and even cinema halls. it is also the gateway to Tilicho lake, one of the highest freshwater lakes in the world. after a whole day's rest, we will have a 2-hour drive to khangsar which is at an altitude of 3514m, and will have an overnight
stay in the guesthouse.
DAY 5: RIDE FROM KHANGSAR TO PISANG.
We will be traveling offroad trails at an altitude of 3734 meters to Pisang and will have an overnight stay in a guesthouse.
DAY 6: PISANG TO SHYANGE
After breakfast, we will continue our journey.  we will be traveling offroad trails along with some amazing scenery and the welcoming nature of the sherpas
who are the local residents.  after traveling the whole day we will have an overnight stay in Shyange in the guest house.
DAY 7: SHYANGE TOUR
We will rest in Shyange and have a little detour around the place. you can go  hiking if you want.
you will be surrounded by mountains, rivers, etc. after such a long ride you will feel very relaxed.
DAY 8: DEPARTURE TO KATHMANDU
After breakfast, we will start our journey towards Kathmandu. as we move forward you will
have a sensation of satisfaction and as we start driving on highways, you will feel the change
in landscapes as you left mountains behind. you can see the difference as you start getting
closer to the busy life of the city. after arriving in Kathmandu, we will take you to your hotel.
Trip Includes: 
Airport Pickup and drop
Lunch and dinner during the entire trip,
TIMS card (Trekkers' Information Management Systems) Permit
ACAP Permit (Annapurna Conservation Area Project (ACAP))
local staffs (Guide, Mechanics) wages, accommodation, and food
Motorbike spare parts
Breakfast
Motorbike with fuel for the entire trip.
Hotel in Kathmandu with B / B Plan (Twin sharing basis)
Trip Excludes
Beverage, entry fee, world heritage site entry fee,

Travel rescue, insurance,

Tips for Guide and Mechanics, Bike gears,

International tickets,

Nepali visa fee, Bar bills, Repair charge for any physical damage on motorbikes,

Personal expenses, etc
Note: Trip Itinerary can be changed according to your request.  For this trip Minimum,
2 riders are required.
The more rider in your group you will get more discounts on rates. 
The trip itinerary can be changed according to your request. & Please bring a valid driving
license from your country or an international driving license, both work here.
We suggest bringing your own complete motorcycle gear (helmet, boots, gloves, suit incl.
protectors/back protector.
We suggest bringing your personal travel insurance,  medical insurance,
Please follow the tour leader's instructions during the trip.
Please take care of your own equipment and motorbike. City motorbike will not be 
responsible for any loss of equipment costs for
recovery.
TRIP COST –  STARTING USD 2980 PER PERSON
Book Now