Nepal – It was pleasure meeting you, Muktinath travel blog by Bhawna by citymoto in Uncategorized
Comment: 0
As I landed dust laden bustling capital Kathmandu, my expectations from this vacation was average. But without spending another day in a city, we hired a bike from city motorbike – Thamel, Kathmandu and started our ascend to Muktinath via Pokhara- Jomsom.
View seen while heading to Muktinath
View from Kathmandu to Pokhara was full of beautiful green valleys, sparing villages, vivacious river flowing parallel to the road with intermittent rain showers. That first night we parked our self at Pokhara, near the Phewa Lake. Getting up next day with this lake view and Annapurna range on the North confirmed us that we made the right decision to step into this Land of Himalayas.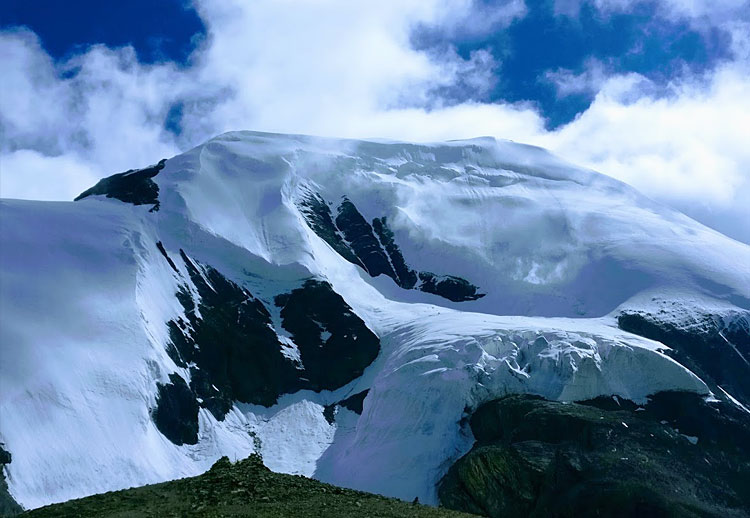 Snow capped mountains on our way to Muktinath Temple.
From there we started our journey ahead, leaving the comfortable asphalted roads behind and on to gravel, rocky, sludgy and tenuous road. The steep road follows the Kali Gandaki river in one side and massive mountains on the other. At various places across the route we saw landslides affected areas. But it was a shock to experience such a raw beauty with its massiveness. For a first time I felt that, there is so much out there that is bigger and stronger than you that will endure long after you are gone! This basic fact made me feel so insignificant that I didn't care how I looked like in my entire trip.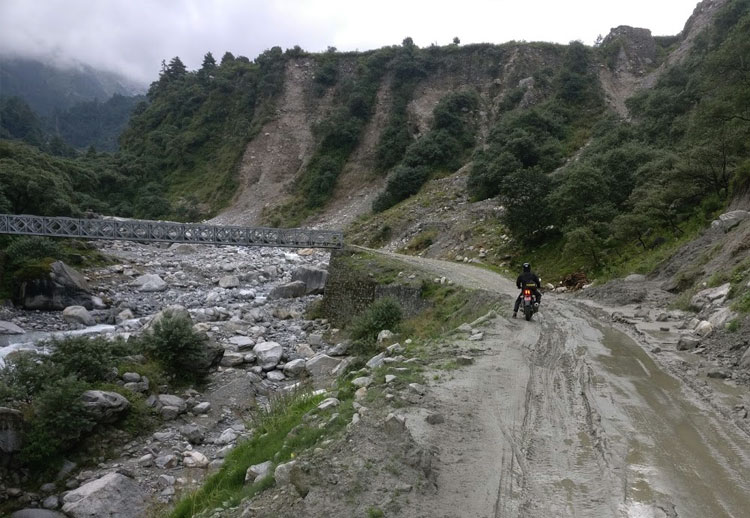 Riding to Muktinath, Nepal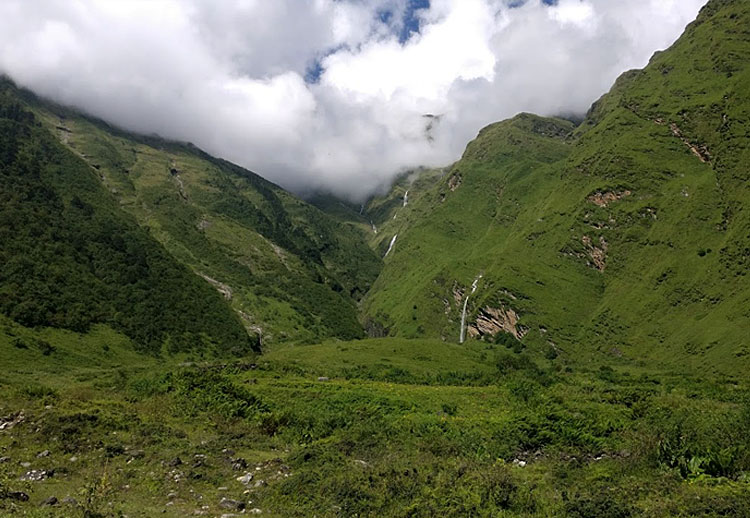 Greenery seen in lete, Nepal
With all the adventures that day, we decided to take our first rest at Lete, a scenic village surrounded by Dhawalagiri, Annapurna and Nilgiri mountains. In that moonlit night, one can see snow capped Dhaulagiri in its best form! We thought it was heaven, not knowing that the best is yet to come!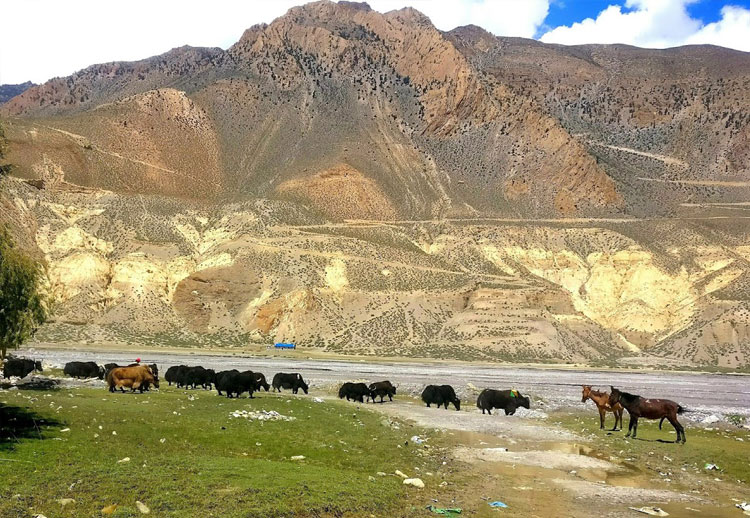 Leaving Lete was like leaving greenery, we suddenly entered rain shadow area of Nepal with massive brown mountains, and reptiles crossing our muddy dry path! We were entering the lower Mustang , an ancient forbidden kingdom. Upper Mustang is still restricted and needs separate permit but we could visit Jomsom (famous for its Sahligram) and Kagbeni, which is said to be a hint of upper Mustang.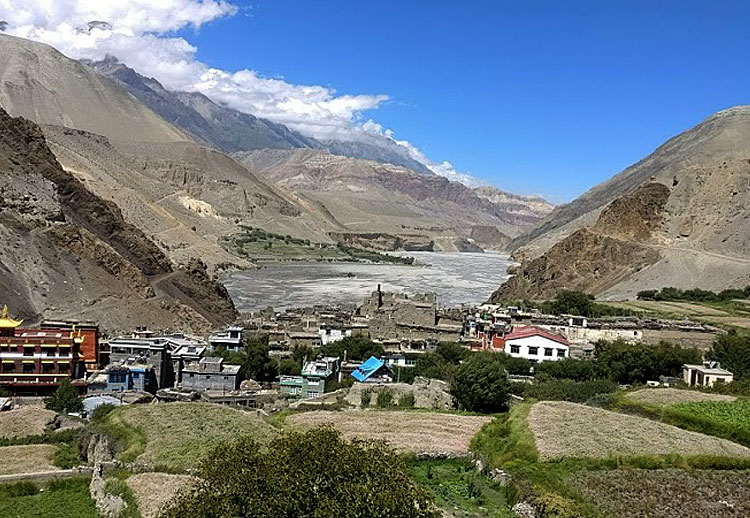 These areas are still one of the most preserved regions in the world, with most of population still speaking old traditional languages. Taking enough memories, drenching in various waterfalls, crossing angry bridge less rivers and having local food, we ascended further to reach our destination- Muktinath! We planned to visit the temple that evening and thought to start our trek next day early morning.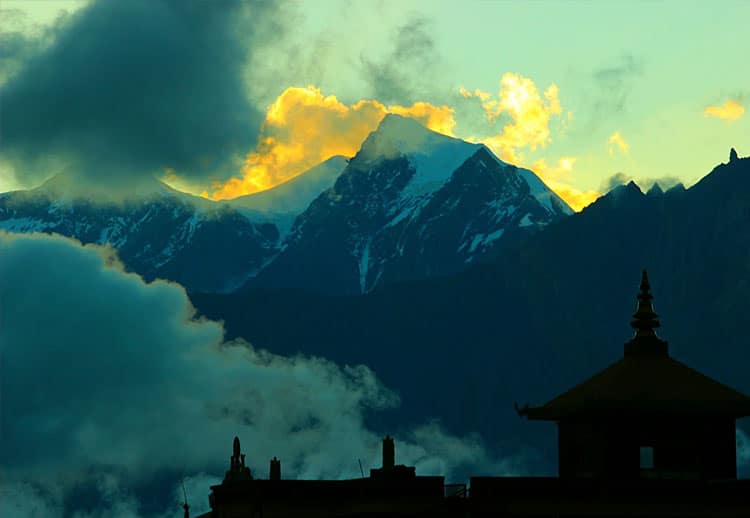 Mountains seen from Muktinath, Nepal
At Thorongla Pass, Nepal
When in Nepal, the part of glory is how high did you go. Our ascend and descend to Thorong La from Muktinath was on the same day (again not recommended) and it took us 18 hours! Crawling to the most hair raising Himalayan pass, I learnt so much about myself.
It took me from familiar to unknown, out of my comfort zone into murky water and exciting world. There I learnt about myself, my limits, both physical and mental and my openness to new ideas. It was all about pushing yourself a bit more when people were about to give up, and about keeping yourself calm when people lose it. I will never be able to write that experience in any better word or capture those pictures! In short, I must say on that day the adventure fell in love with lost! And we did it!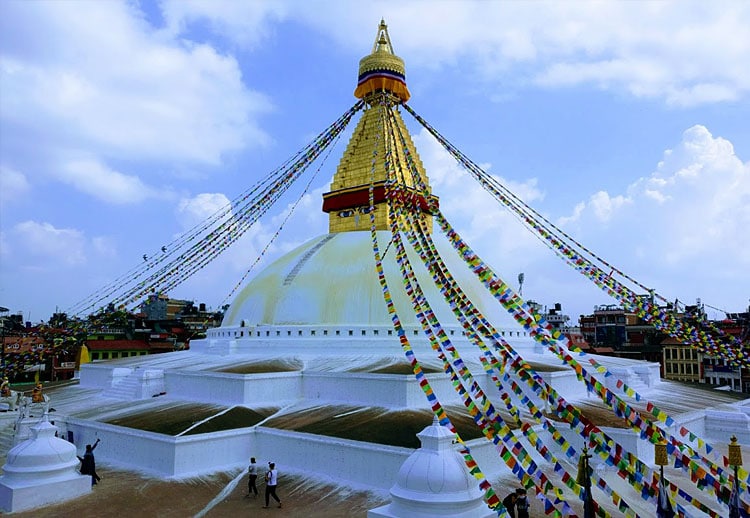 Coming back was easy as now we were aware of unknowns and unexpected! We visited temples and Bhaktapur once in Kathmandu but by then mountains have already stolen the hearts and no other experience can replace that. It was beyond any souvenirs I could collect. It was like getting comfortable being uncomfortable.
With that heavy heart, we bid goodbye to Nepal with a hope of coming back someday. Till then it was pleasure meeting you Nepal.
If you wish to join our Jomsom Mukinath tour, click here
Text / Photos: Bhawna Yadav, India ( Trip to Muktianth, September 2017)
Follow Bhawna for more Travel blogs:
Tumblr: https://hellobhawna.tumblr.com
Instagram: https://www.instagram.com/bhawnayadavv
Twitter: https://twitter.com/Mebhawnayadav
-End of the text-