Upper Mustang Motorbike Tour – 13days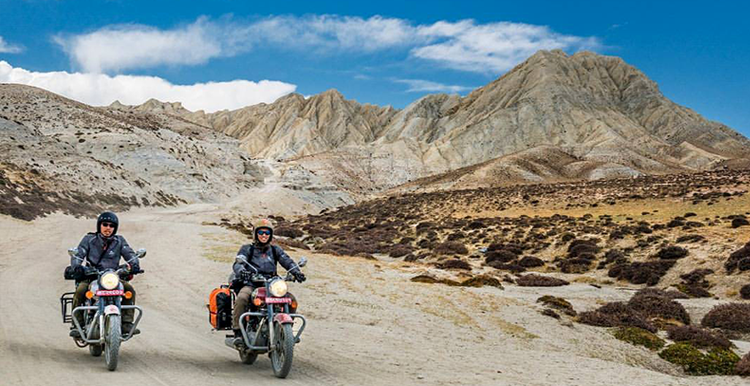 Upper Mustang Motorbike Tour – 13days
Duration: 13 DAYS,  Riding: Challenging, Best Time: March – June. Sept. – Nov. 


Upper Mustang is an undisturbed piece of land which lies in the border of Nepal and Tibet. Due to the fact that Upper Mustang was a restricted demilitarized area until 1992 and was opened to non-Nepali trekkers only fifteen years ago, it is one of the most preserved regions in the world.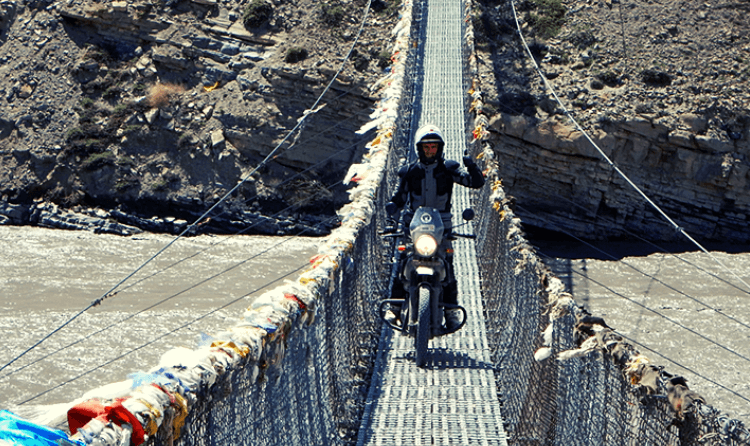 Upper Mustang motorbike tour will definitely push your riding skill and endurance to the very limit because this is not your typical Himalayan experience. You will feel as if you are on another planet in this foreign land. Whereas our Lower Mustang motorbike tour required moderate riding skills and a bit easier than the Upper Mustang motorbike tour.
We will also explore Lomanthang on our Day 7th,  Lo Manthang, the walled capital of Upper Mustang, in the north of Nepal including thousands of years old monasteries and the most fascinating caves at Chosar.
Mustang district is a heavenly gift from earth to us and one must experience it once in a lifetime. The rewards are not just the view or landscape, you will get the chance to experience the last remaining Tibetan kingdom in all its glory.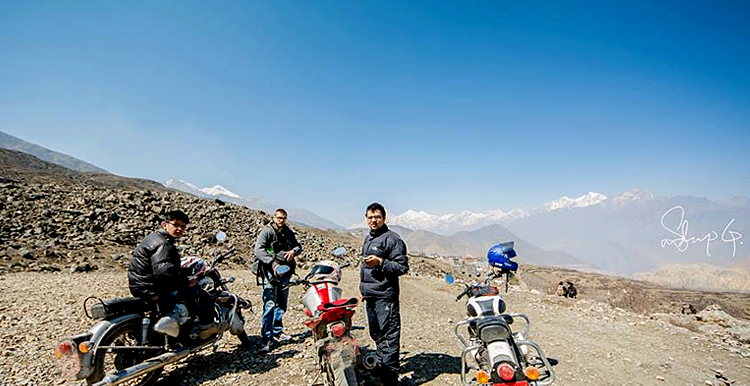 Photo credit: Sandeep Gurung (2016)

The road goes up and down the Mustang valley's edge where one can enjoy superb views of snowcapped mountains, mesmerizing valleys, and lush green terraced hillsides. The higher you go the better the view and the clean mountain air rejuvenates your tired body.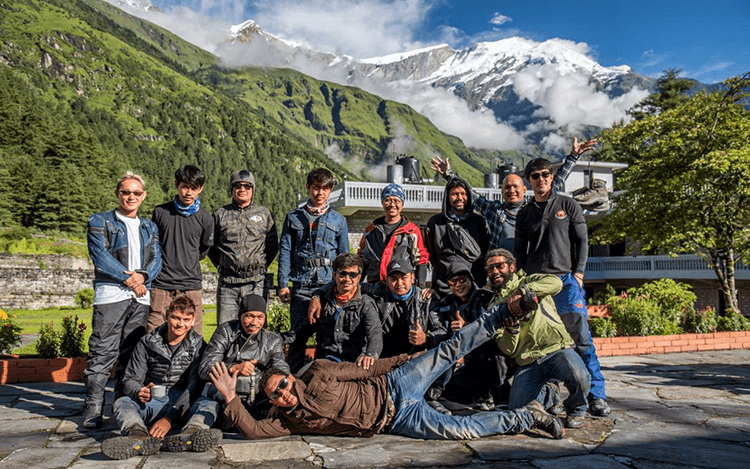 Once you start the journey, there are endless rows of hills, waterfalls with some extreme challenges where the terrain is rough and the thin mountain air directly hits your face.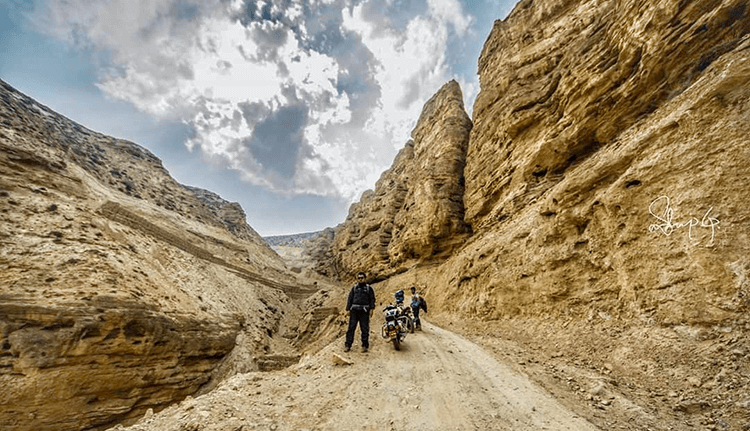 Heading to Lo–Manthang, Upper Mustang, Nepal
There are valleys to ride through, glacial lakes to encounter and the closeness to the Himalayan Mountain will leave you in disbelief. The kind-hearted and smiling people of the mountain region will make it all worthwhile. Their warm greetings will make you feel at home, enough to make you want to stay. Mustang trip on the bike will be one of the best journeys so far any motorcycle enthusiastic person. 
Our 13 days Upper Mustang Motorcycle tour will definitely make your travel holiday exciting and memorable. 

Video from Upper Mustang tour
Trip Highlights:
Adventurous Offroad Experience to the restricted area of Upper Mustang
Observation of local culture, people & village.
Discoveries of  medieval temples, ancient chortens, and a cave village
Breathtaking Himalayas – Tibetan plateau – Annapurna mountains
Ride through the world's deepest gorge: Kali Gandaki Gorge
Muktinath temple Sacred Hindu temple at 4000 m.
2000 years old caves of Chosar
Kora La, the Tibet/Chinese border at 4600 m.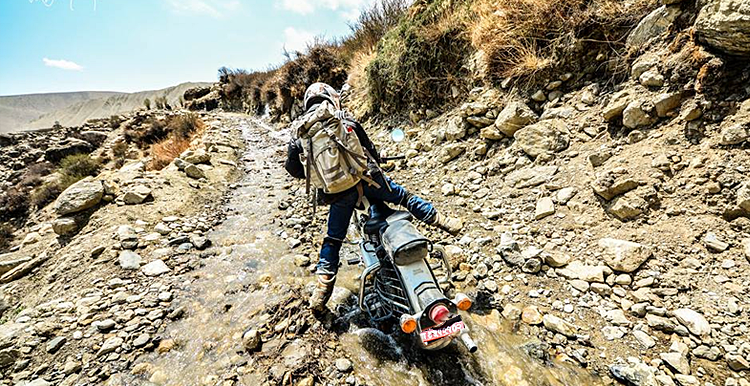 Bit of offroad while heading to Upper Mustang.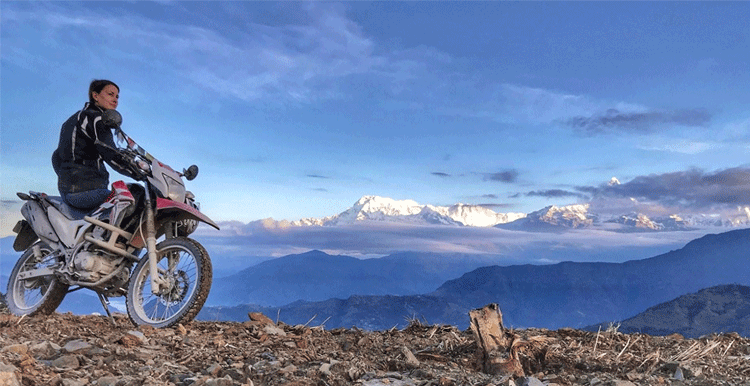 Annapurna range during our ride.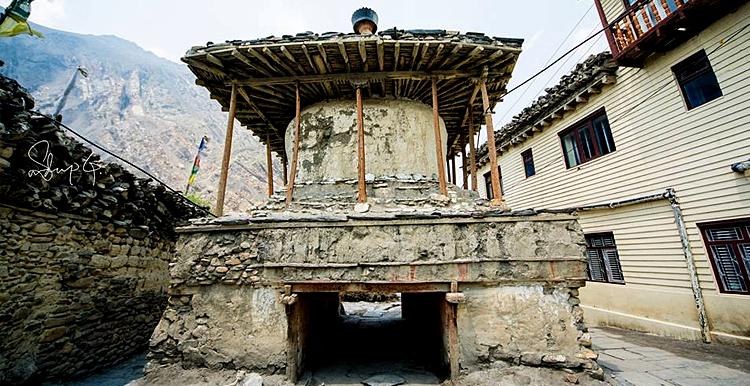 Photo from Upper Mustang (Sandeep Gurung)

Review for City Motorbike on Tripadvisor by Mr. James who joined our Upper mustang trip 

Detail Itinerary for Upper Mustang Motorbike tour

:
Day 00: Arrive in Kathmandu, meet our team. transfer to selected hotel in Kathmandu.

After your arrival at Tribhuwan International Airport, Kathmandu. City Motorbike representative picks up you and drop off to the Selected hotel.

Day 01: Sightseeing & Test drive in Kathmandu valley sightseeing by bike,

On the first day. In the early morning, we will leave for Nagarkot for sunrise view & test ride of a motorcycle with Our guide & team member. While coming back from Nagarkot we will also visit UNESCO Heritage site Bhaktapur durbar square & Swoyambhu Stupa.

DAY 02: Ride from Kathmandu to Pokhara (200KM)

We will leave Kathmandu the early morning after we will have our breakfast. It will take approx 6-7 hours to ride to Pokhara. We will ride through enjoying the view of beautiful landscapes and mountain villages. Pokhara has exotic views of the Annapurna Mountain range Beautiful lakes, hills, forest, and river. Reach Pokhara and relax. Overnight at Hotel, Pokhara.

DAY 03: Ride from Pokhara to Kalopani. (125 KM)

Starting early, We'll pass through Nepal's longest suspension bridge at Kusma. We will ride through Beni to Kalopani which is around 104KM following the paved road and Rough road begins after Beni with breathtaking views of Himalayas on the background on a clear day. We ride along the bank of the Kali Gandaki River with huge waterfalls. From here our adventure journey will start. It will take us 4 days from pokhara to upper mustang by bike. We will overnight at Guesthouse.

DAY 04: Ride Kalopani to Muktinath and Back to Kagbeni (65 KM), 

After we have our Breakfast in Kalopani following the Kali Gandaki river with a Himalayan range of Annapurna, Nilgiri, and Dhaulagiri. We will travel to holy sight Muktinath temple and Buddhist Monastries which is at 3800M.  We will see the famous continuous burning fire from natural gas and 108 water taps where pilgrims take shower under all those taps. Then we get back to Kagbeni. Overnight at Guesthouse.

DAY 05: Ride kagbeni to Ghami (7 Hours), 

Explore the typical village of Kagbeni, we will proceed for our permit checking and documents at the check poing of Kagbeni village then we ride to reach Upper Mustang village. Crossing rocky trails and observe Tibetan-themed houses and settlements we will pass through Chhusang (2,950 m), Chele, and Syanbochen, we head to the settlement of Ghami. We will see the clusters of ancient cave dwellings high up on the dramatic rock face across the Kali Gandaki river.

DAY 06: Ride from Ghami to Lo-Manthang ( 6 Hours),

We will leave for our destination of the trip, Lo- Manthang. We will see the panoramic view of Nilgiri and Dhaulagiri along with the longest mani walls of Ghami, through the village Tsarang from where we'll ride up to Ghar Gumba, one of the oldest monastery in the area (8th century).

DAY 07: Explore to Lo-Manthang by Walking (3840M),  Visit Chosar Caves

We will explore Lo-Manthang village by walking and visit thousands of years old monasteries and the most fascinating caves at Chosar.

DAY 08: Ride to Kora La (Tibetan Border) from Lo-Manthang and back. 

We will Ride to Nepal Tibet border Kora La which is about 20 KM from Lomanthang. Relax for a while and see the view of Himalayas and valley and get back to Lomanthang for Overnight stay.

Day 09: Ride back to Gilling.

Ride back to Ghilling with the view of plateau land and the panoramic Himalayas during whole day.

DAY 10: Ride back to Kagbeni

Way back to kagbeni, We will do walk tour around the village, monasteries.

DAY 11: Ride back to Tatopani. Natural Hotspring.

Ride back to Tatopani via Jomsom, Marpha, and other typical villages. Enjoy bathing at Natural Hot Spring.

DAY 12: Ride back to Pokhara

Ride back to Pokhara, we will have enough time to walk around Lakeside after check-in Hotel.

DAY 13: Ride back to Kathmandu. Overnight at Hotel

We will ride back to Kathmandu. End of the tour.
Trip Includes: 

Airport Pickup and drop
Motorbike Bike for the entire trip
Three meals daily in the lodge, tea or coffee three times a day.
Lodge and local house accommodation for the entire trip.
Mustang Special Permit (Upper mustang tour permit cost USD 500 per person)
Upper Mustang Permit fee for Indian Citizens & other citizens (500 USD per person) which is included
ACAP Permit (Annapurna conservation area permit)
local staffs (Guide, Mechanics) wages, accommodation, and food
Breakfast
Motorbike with fuel for the entire trip.
Spare Parts for Motorbikes
Lodge and local house accommodation for the entire trip
Accommodation in Kathmandu / Pokhara  ( B/ B plan with Twin sharing basis)
Trip Excludes: 
Beverages during the entire trip.
Entry fee to a world heritage site
Travel rescue, insurance, Motorbike insurance,
Tips for Guide and Mechanics, Bike gears, International tickets,
Nepali visa fee,
Bar bills, Repair charge for any physical damage on motorbikes, Personal expenses, etc
All unseen personal expenses, any changes of the itinerary due to political and weather conditions, etc.
Note:
The trip itinerary can be changed according to your request. & Please bring a valid driving license from your country or an international driving license, both works here.
We suggest bringing your own complete motorcycle gear (helmet, boots, gloves, suit incl.
protectors/back protector.
We suggest bringing your personal travel insurance,  medical insurance,
Please follow the tour leader's instructions.
Please take care of your own equipment and motorbike. A city motorbike will not be responsible for any loss of equipment costs for recovery.
Group: For this trip Minimum of 2 riders are required.  More riders in your group the more discounts on trip rates.
If you have any choices of other motorbikes for the trip
Feel free to write to us, if you have any questions.
Please write to us at citymotorbike.com@gmail.com for more details about the trip. days 
Book Now