Jomsom Muktinath Motorbike Tour
Duration: 7 DAYS, Max Altitude: 3,800M, Best Time: February – June, Sept – Dec. 
Jomsom Muktinath Motorbike
Tour
(Lower Mustang Motorbike tour)
Be ready to experience the stark, barren landscapes of Lower Mustang motorbike tour dotted with Tibetan Buddhist cultural attractions around Jomsom as City Motorbike offers you an adventurous  motorbike tour to Lower Mustang
The Mustang region of Nepal was once an isolated and independent Tibetan kingdom with its rugged and mystical reputation. It is divided into Lower Mustang and Upper Mustang, and although they are connected they are quite different from each other. They offer different attractions for the visitor, in terms of accessibility, landscape, culture, and cost. Since Lower Mustang lies to the north of the Himalayas.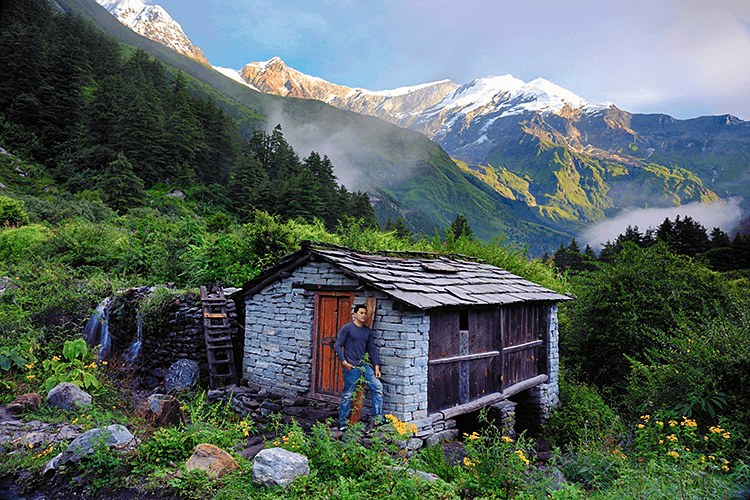 Lower Mustang is geographically and geologically similar to Tibet. As a section of the Annapurna
the region, it takes you to the southern border of the previous Mustang kingdom without high altitude. 
If you're more familiar with the lush green hills and terraced rice fields of other parts of Nepal, then the Lower Mustang motorcycle tour will be quite a surprise. Because it doesn't experience the monsoon, the land is very dry.
The only patches of green you'll see are irrigated areas of farmland around towns. With spectacular
the big Himalayas presents a decade long culture of Himalayan folks.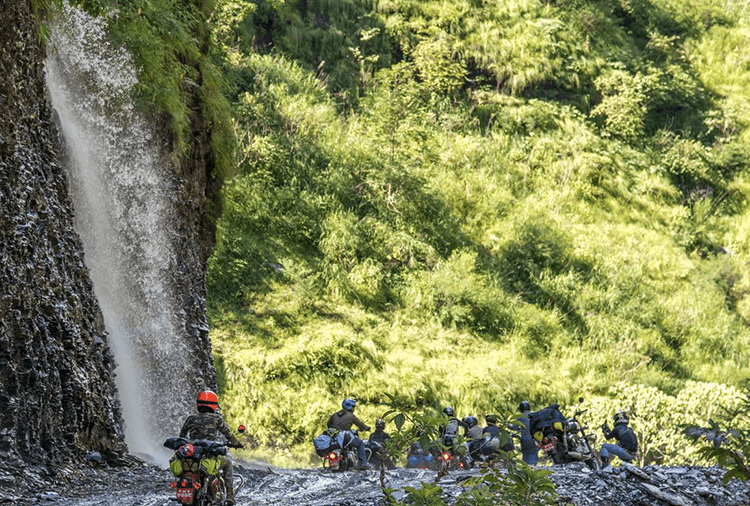 Mustang tour on the bike is mainly designed for those who want to experience the real life of people  from the Mountains with the off-road motorcycle adventure in Nepal and able to get pleasure from hot spring at Tatopani with a gorgeous view of Nilgiri, Annapurna, Dhaulagiri, and the whole Annapurna region
& Muktinath temple (Muktinath altitude: 3,800 m) is an ancient sacred place for both Hindus and Buddhists. 
Be ready to experience the Jomsom Muktinath motorbike tour with the Annapurna trekking trail includes scenic beauties of the different landscapes & the world's deepest gorge in Nepal.
Video from our recent trip to Muktinath, Nepal (August 14, 2017)
Trip Route to Muktinath:
Kathmandu- Pokhara- Kalopani-Jomsom- Muktinath
Trip Highlights:
Visit Natural Hot-spring next to Kali Gandaki River
Visit Mustang Valley
Observation of local culture, people (Gurung, thakalis) & village.
Visit the hundreds of years of old Monastries.
Off-road ride through the world's deepest gorge Kali Gandaki Gorge.
Spectacular view of Dhaulagiri and the Annapurna range.
Apple farm in Jomsom, Mutang 
Visit Jomsom, one of the popular trekking areas in the Mustang valley.
Visit Lower Mustang areas; Muktinath, Jomsom, Kagbeni, Marpha, Tatopani, Kalopani, and Beni. The entire lower mustang route is connected with a rough road where the adventure begins for the offroad trip lovers! 
Visit Holy Temple Muktinath.
The photo was taken in Muktinath 2018
Major Attractions in Lower Mustang Motorcycle tour:
Kunda (It is believed that negative karma will wash way if we can take a holy dip in this pond)
Mukti Dhara ( The 108 waterspouts where water flows directly from Gandaki River, it is also believed
that devotees who take a bath to be free from sins and bring salvation)
Jwala Mai Temple ( A temple produce the small Natural gas)
Gomba Samba ( A Famous monastery situated near the entrance gate of Muktinath temple.
 
The photo was taken on the way to Jomsom by Sandy wijaya, Indonesia 2017
Detail Itinerary for Jomsom Muktinath Motorbike Tour:
Day 00: Arrival in Kathmandu:


You will arrive in Kathmandu at the Tribhuvan International Airport (KTM) and you will meet the airport representative.
From there, you will be transferred to a selected hotel in Kathmandu. (Test drive) 

Day 01: Kathmandu to Pokhara: 

Early morning ride to Pokhara from Kathmandu by bike (6 hrs. 202km.) Overnight at hotel in Pokhara.

Day 02: Pokhara to Kalopani:

Ride to Kalopani (110km). 65km blacktopped. 45km dirt road. Great Mountain views.

Day 03: Kalopani to Muktinath:

Ride to Muktinath (3800m) with a lunch stop at Jomsom 2680m. 68km. 100% Dirt road.
Awesome scenery and landscapes.

Day 04: Muktinath to Marpha to Tatopani:

Explore Marpha first half of the day. After lunch ride down to Tatopani and enjoy the natural hot spring.

Day 05: Ride to Pokhara. (91km).

Day 06: Ride back to Kathmandu.  Overnight Stay in Hotel

Day 07: Farewell, Transfer to International Airport departure from Nepal.
Trip Includes: 
Airport Pickup and drop
Lunch and dinner during the entire trip.
TIMS card (Trekkers' Information Management Systems) Permit
ACAP Permit (Annapurna Conservation Area Project (ACAP))
local staffs (Guide, Mechanics) wages, accommodation, and food
Breakfast 
Spare Parts for Motorbikes
Motorbike with fuel for the entire trip.
Hotel in Kathmandu with B / B Plan (Single room with Double bed)
Hotel in Pokhara with B/ B plan (Single room with Double bed)
Farewell dinner
Trip Excludes: 
World heritage site entry fee, 
beverages during the entire trip.
Travel rescue, insurance, Bike Insurance
Tips for Guide and Mechanics, Bike gears,
International Airfare
Nepali visa fee, Bar bills, Cold drinks, etc
Repair charge for any physical damage on motorbikes, Personal expenses, etc
Note: 
Please bring a valid driving license from your country or an international driving license, both works here.  Since Muktinath is at an altitude of 3,710 meters,
please consult your doctor about your health condition and also send us a copy of your insurance.
The trip itinerary can be changed according to your request. & Please bring Valid driving
license from your country or international driving license, both works here.
We suggest bringing your own complete motorcycle gear (helmet, boots, gloves, suit incl.
protectors/back protector.
We suggest bringing your personal travel insurance,  medical insurance,
Please follow the tour leader's instructions during the trip.
Please take care of your own equipment and motorbike. City motorbike will not be responsible for any loss of equipment costs for
recovery.
 
Group size: Embark on an exhilarating Jomsom-Muktinath motorbike adventure with a group of at least 2 riders, or solo if preferred. The more riders in your group, the greater the savings on tour rates. Don't hesitate to reach out to us with any inquiries & Trip Itinerary can be changed according to your request. Please write to us at citymotorbike.com@gmail.com for more details.
TRIP COST –

 STARTING USD 1895 per person 
Book your tour today and contact us on WhatsApp or Viber for immediate assistance at +9779843360610 or +9779841205828.
In 2017, we did a trip to Lower Mustang on a motorcycle with Thailand actor Mr. Weir Sukollawat Kanarot. 
More photo from our gallery on Facebook:
Book Now