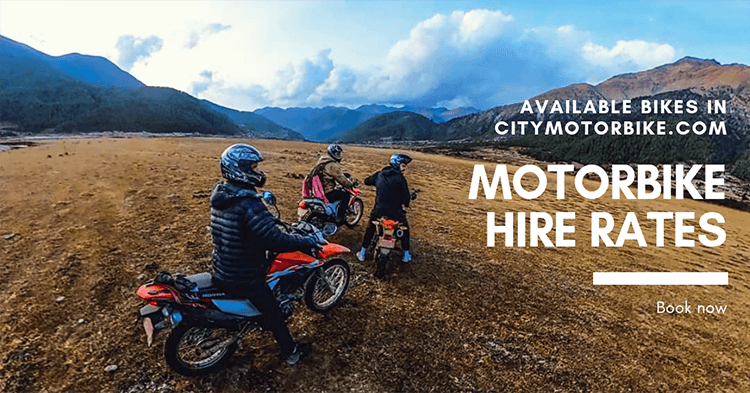 Our Rental motorcycles are regularly inspected by our expert team members at City Motorbike to ensure each rental will go convenient. Our price covers the motorbike rental and a helmet only. We will also provide extra fuel.
We provide pick-and-drop service at your hotel or at a chosen destination with a certain charge.  We offer different motorcycle tour packages in Nepal, you can simply check our website for all details. We have a very experienced team who are in motorbike rental and tour service in Kathmandu for 35 years.
Bike rent in Kathmandu is an easy process, you just have to fill-up the form, and check the rental motorcycles before getting ready for the hiring process and you can go ahead with your ride.
Here is the listed Price of Motorcycle rental in Nepal:
Motorbike Hire rates in Nepal:
Bajaj
| # | Bike Model | Engine Capacity | Rate Per Day | Rate Per Month |
| --- | --- | --- | --- | --- |
| 1 | Bajaj Pulsar | 220cc | Nrs. 2000 ($ 20) | Negotiable |
| 3 | Bajaj Pulsar | 150cc | Nrs.1200 ($12) | Negotiable |
Note: Rate may be changed on the availability of bike, season, and where the motorbike is being used.
Please read our Faqs ( Frequently asked a question about travel Nepal on a motorbike), before renting the bikes.
We also provide a bike tour packages service in Nepal for our customers! You can check our trip packages section for details. If you are sure to join any of our bike tours or Rental service, before joining check our tips for touring in Nepal on Motorbike.
If you go with our MOTORCYCLE GUIDED TOURS PACKAGE IN NEPAL. It will take total care of your travel arrangements so that you could freely travel. Having an experienced guide who knows the local language and areas would give you peace of mind and you can fully experience the journey along with other riders without worrying including our experience Mechanics who look after your bikes during your tours.
We are also recommended by TripAdvisor for our service, you can read a review by our customers who rented bikes or used our motorcycle tour service before from us here in TripAdvisor review for city motorbike
Here are available packages of our Nepal Motorcycle tours, which you can choose from the list! All of the motorcycle tours are categorized on the level of riding experience:
Thank you, for the quick inquiry! Please contact us below:
Contact: +9779843360610 (Sujan Maharjan) , +9779841205828 (Buddha Ratna Maharjan)  +977014260211 (Office)
# Interested to rent Motorbikes? Please contact us through the booking inquiry form.