12 Useful Tips for Motorcycle tour in Nepal by citymoto in Blog
Comment: 0
Tips for Motorcycle tour in Nepal
Thinking about going to Nepal by motorcycle for the first time. Make it a reality and you will have the most fun you have ever had in your life for sure.   It is adventurous as well as risky if you are too careless. Therefore you must consider a few tips before getting ready for the first motorcycle trip to Nepal.  We will guide you through the things to consider for renting a motorbike or motorbike tour for your first ever trip to Nepal.
Here are Useful Touring Tips:
(1) Pickup a comfortable bike:
Whatever sort of motorcycle you pick, you must always be comfortable with it. It's not just about looking cool on the bike but also riding it well. Before choosing the motorbike, you can look after our categories of Motorbike rental rates in Nepal that are available for rental & tours. You can check here the details of our bike categories.
Available Motorbikes rental in our store/ with price below:
Or you can check bike details of available for rental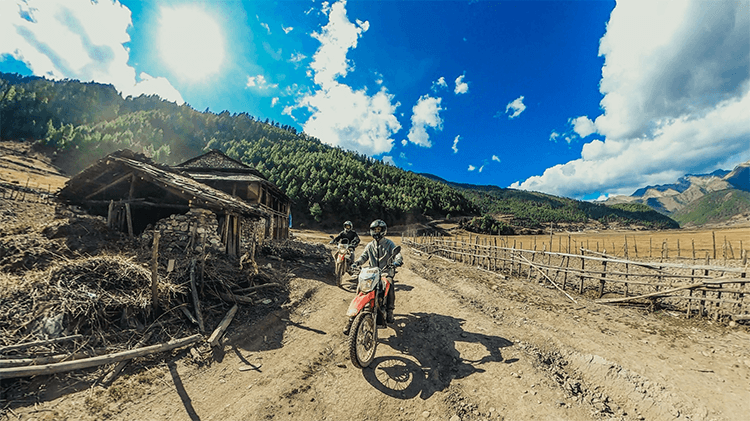 Photo by Philip Hunter, with Honda XR190L
Else you can write us at info@citymotorbike.com about your routes and riding experience, we may suggest the bike accordingly.
(2)Proper gear to ride:
For long-distance riding, always wear riding pants, lower leg boots (safety shoes can be a substitute), a ding coat, and obviously a full face head protector. Or on the other hand, there is the alternative of knee and elbow watches or body defensive layer.
Motorcycling rigging can without much of a stretch be purchased on the web or in moto stores in Nepal. Try to get as fitting a ze as could, baggy and loose attire may be an unsettling influence and cause inconvenience. When totally gear up, you might feel heavy & awkward at first, but once you get on the bike, realizing that you are riding more secure will make your riding progressively fun and give you more prominent certainty. In addition, you get a greater amount of the biker feel.
(3) Rent a Motorcycle / Join Motorcycle Tour in Nepal:
It is very easy as we offer a numerous choice of bike models for multiple destinations. You could simply check our website as per your required specification because we have a wide variety of bikes to choose from and Rental also gives you the freedom to keep a pretty open daily riding schedule.
While coming for our first adventure motorcycle touring in Nepal, You can also create your own custom route, it can take a lot of time but is also a fun experience. You get a chance to learn about new places, get information from other riders, and can ride at the pace that works for you. You may choose according to your personal preference.  You can rent a motorbike or join any of our guided tour packages.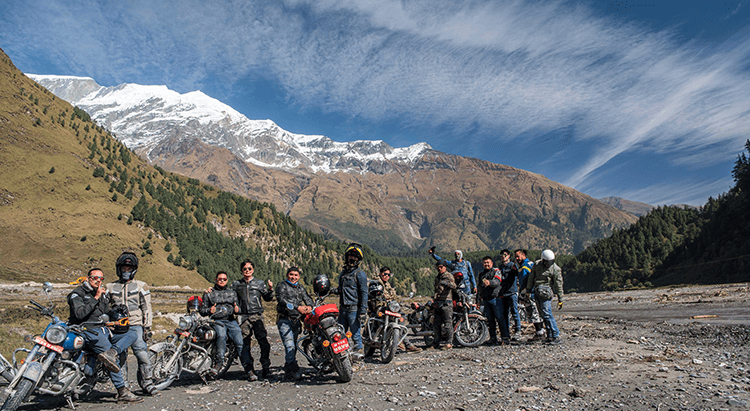 If you go with our MOTORCYCLE GUIDED TOURS PACKAGE IN NEPAL. It will take total care of your travel arrangements so that you could freely travel. Having an experienced guide who knows the local language and areas would give you peace of mind and you can fully experience the journey along with other riders without worrying including our experience Mechanics who look after your bikes during your tours.
Here are available packages of our Nepal Motorcycle tours, which you can choose from the list! All of the motorcycle tours are categorized upon level of riding experience:
At City Motorbike, we have a team of experienced bike assistant that can assist you with route planning for your rental or custom tour as per your requirement.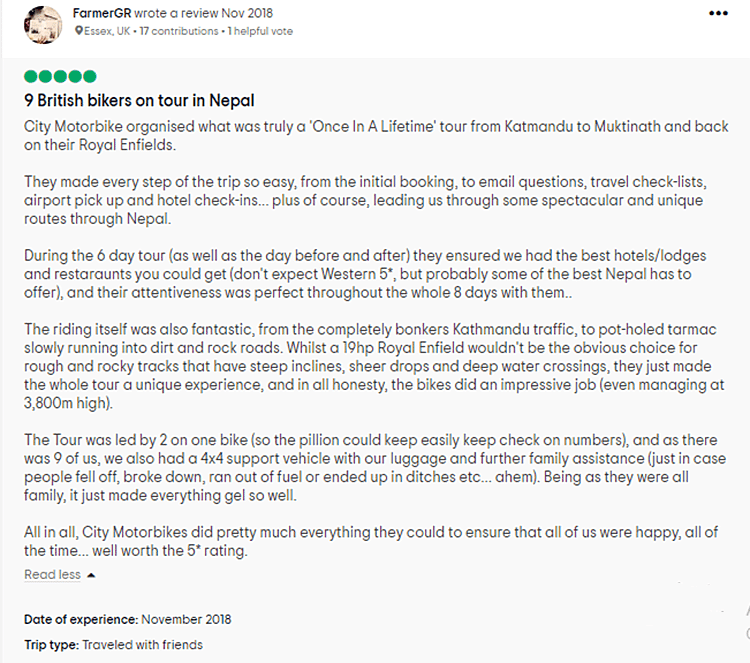 Review on Tripadvisor by Mr. Gavin from UK who joined our Guided Motorbike tour
(4) Don't overpack, pack light:
There's an amazing range of motorcycle luggage available in the Nepali market to choose from metal to soft textile baggage. There are saddlebags that you can attach on the back seat of your bike, tank packs that embrace your tank, and can carry lighter stuff, tailbacks that can be roped to the back seat, etc. These are accessible on the web or in moto stores and come in various sizes and styles to suit your bike kind.
When packing, make sure to carry as many disposable things as you can, which can be used & thrown away.
This will assist you in eliminating a ton of weight as you travel. Eg – instead of shampoo bottles carry small sachets; carry small soap bars, disposable toothbrushes which you can slip with on your ride back.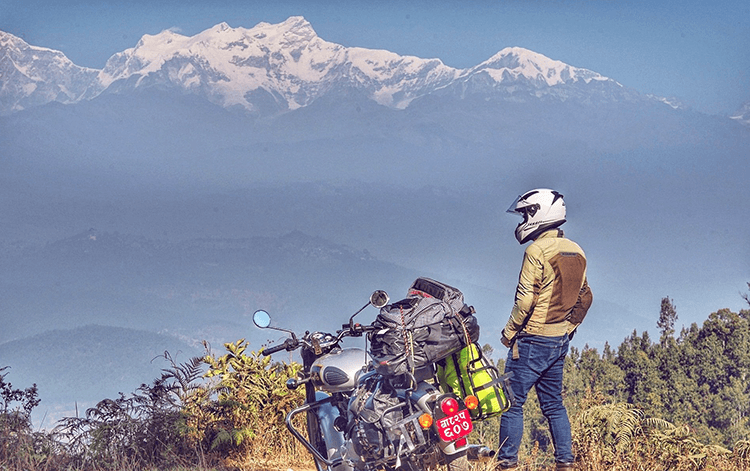 (Photo by Chotirat Norrarat)
Don't unnecessarily carry a lot of changes of clothes, instead of that try to wash & reuse your clothes. This point is optional, Give the DSLR a miss & carry a digicam if you have one, which can be put in your pocket instead of packing it up in the luggage & taking it out every time you want to take some photos.
Don't fold your clothes – roll them, they occupy less room that way. Basic medicines are an unquestionable requirement, Be ready and prepared for any obstacles.
(5)Stay hydrated: 
A lot of people do not pay attention to drinking water on a motorcycle road trip. It is advised to invest in a hydration pack which is basically a water bottle in a bag with a tube which you can slide over your shoulder & drink water from without taking off the helmet or even stopping. Keeping yourself well hydrated throughout your ride will save on all the exertion caused by dehydration else you can buy Mineral waters on the road anywhere.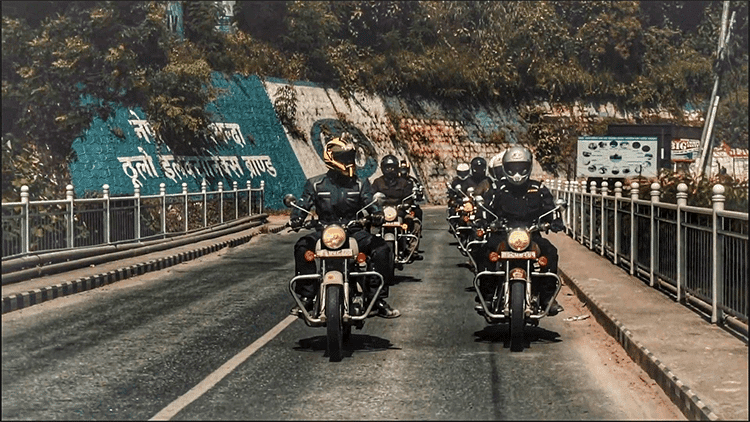 (6)Know Your Route:
Not all of us are good with directions & remembering roads, but one must have a fair sense of direction which you are headed in & should consider the route you are taking to avoid wasting time and getting lost. Try to carry a screenshot of the map on your mobile or a printout of the map. Or you can simply download popular route map on your mobile set such as Google Maps, Maps me etc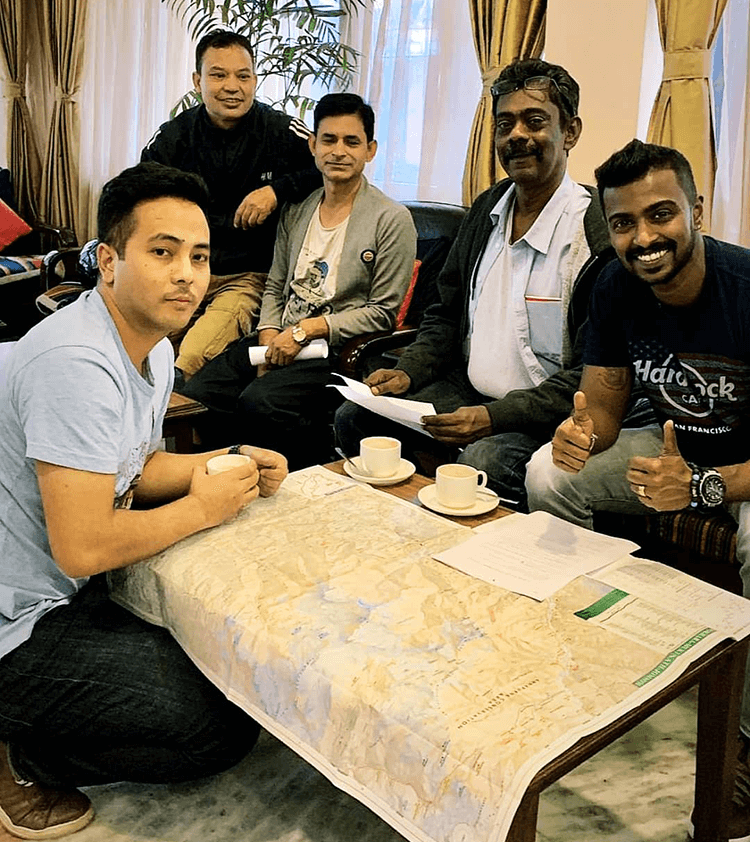 Briefing on Mustang tour to Our friend Mr. Viren from Singapore
Don't feel shy to ask locals for the way for directions & in case you see other riders on the way, you can also consult them, for all you know, you might just get to know of a more interesting route. Enjoy the ride and try & view other motorcyclist's itineraries before you start.
(7) Take breaks
The main thing that you have to keep in mind is that it's not a marathon or race. Know when your bike & body need a break & stop & rest for a certain period every few km or every few hours depending on the terrain. Also, try not to take too many breaks, otherwise, it just breaks the riding flow. When on a break, check if you have enough water for drinking & enough fuel in the tank so that you can plan your next break according to that.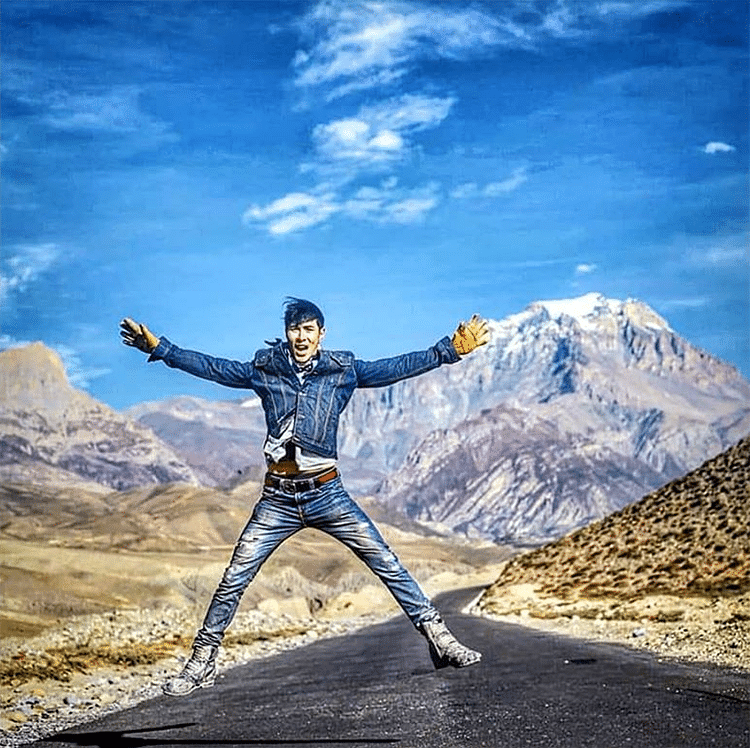 Excitement after the tour to Muktinath temple (Photo by Roger Co)
(8) Start on a light stomach:
This is one of the main problems faced by the new riders. Always eat light breakfast, try an early lunch & don't overeat. Big meals take a lot of energy to digest and will make you drowsy. Besides, toilets on Nepal roads are not very reliable & you may have to go to the riverside or even inside the jungle leaving your bike and stuffs unattended. Therefore it is better to have light breakfast and carry some snacks & energy bars for the way.
Try some local food while on ride (Photo by Chotirat Norrarat) 
(9) Be prepared for any kind of weather:
The main point that you need to consider is that you may plan each and everything but you can never be 100 percent sure about the weather you should be prepared for any kind of weather, it may rain at any point in time. Carrying raincoats & pants that will fit over your riding gear & rain covers for luggage is a must. Try & test your gear on a rainy day at home during your leisure time because traveling during rain is very risky.
(10) Share your ride with others – take photos and videos along the way:
Since it is a digital age sharing your adventure through the lens of the camera or smartphone is the new trend. It is not just about the memories, Let your family and friends involve and enjoy the road with you, you can share your ride on youtube, Facebook, Instagram, etc. where you can also post images and videos of your favorite stops and moments on the road. You can capture your moment on-road and live the same feeling even after many years.
And Don't forget to tag us on your photos of Motorcycle touring in Nepal on Instagram, Facebook, Twitter by using #citymotorbike or tagged us on your photo when you share your photos and videos on social media. We will share with our network along with your name so that you can gain alteast few followers and viewers to your photos & videos.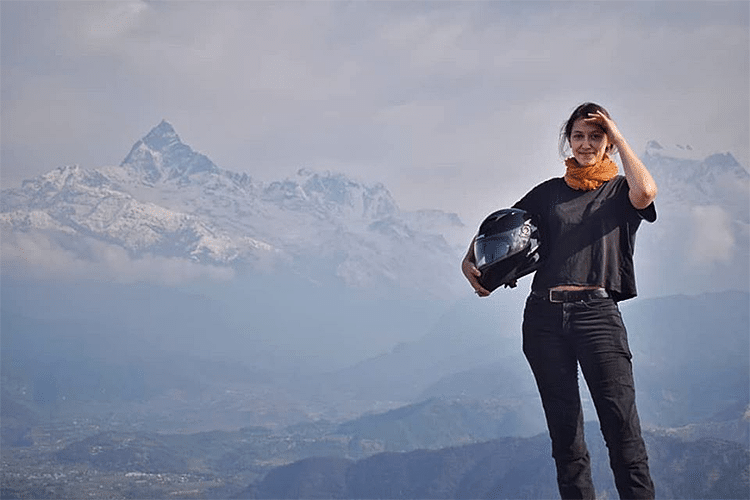 Ms.Hazel gray from Newzealand during tour to Pokhara, Nepal
(11) Follow Traffic rules:
Don't forget to follow the simple traffic rules such as:
– Don't drink and drive
– Wear helmet
– Follow road sign
– keep your motorcycle driving license always with you etc.
(12) Stay motivated: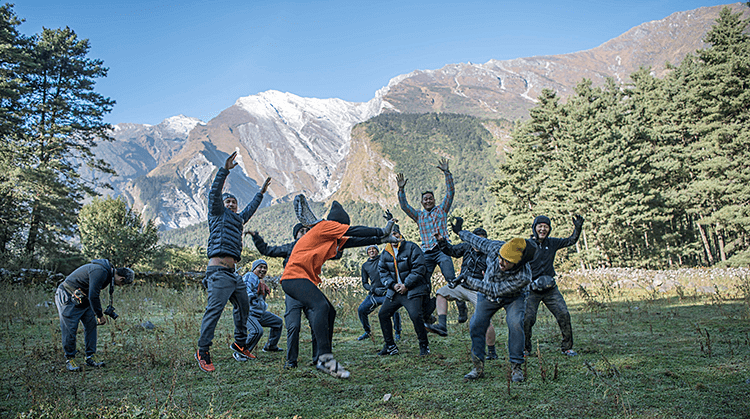 Photo by Roger cox
The beauty of riding a motorcycle is that once you start enjoying it, there's no stopping. Always stay motivated & excited, even if you fall, skid, or have a flat. Getting panicky & scared isn't really useful.
We hope these tips will surely help you on your first-ever motorcycle tour in Nepal. If you have any questions regarding motorcycle trips, feel free to write to us or contact us in the below details.
Email: Citymotorbike.com@gmail.com
Contact: +9779843360610/ +9779841205828
Follow us for more Photos at
Instagram: http://instagram.com/citymotorbike
Facebook: https://www.facebook.com/citymotorbike/
-End of Text-