Quick Guide: How to Rent Scooter and Motorcycle in Nepal ? | City Motorbike by citymoto in Uncategorized
Comment: 0
Planning to travel in South Asian countries, then consider hiring a bike or scooter for the commute. It is not only cheap compared to hiring a car or taxi, but it is also easy and safe to explore around the cities. But if you are new to drive around the cities here in Kathmandu or other cities, then the traffic might be a bit difficult for you. So prepare yourself before renting bike in Nepal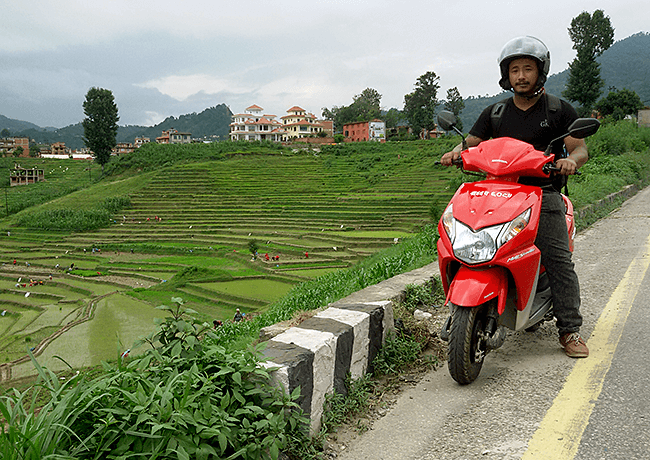 How to Rent scooter and motorcycle in Nepal?
Before renting a scooter or bike in Nepal, you need to do paperwork where you have to fill up your all detail including traveling dates, Hiring dates, Passport no, contact details which will take you 5-10min. 
You can also read our Faqs (Faqs about Travel Nepal on Motorcycle) As soon as you are done with the paperwork, you can now ride your scooters around the valley.  Make sure that you have a valid two-wheeler driving license.  Also, make sure that you are well aware of the traffic rules here. 
City Motorbike will also give you a short brief about the rules and regulations.  So be careful and listen properly to them to avoid any hassles while riding.  It is also a big NO-NO to ride a vehicle after alcohol consumption.  So to avoid any fines and tickets, do not drive under influence (DUI).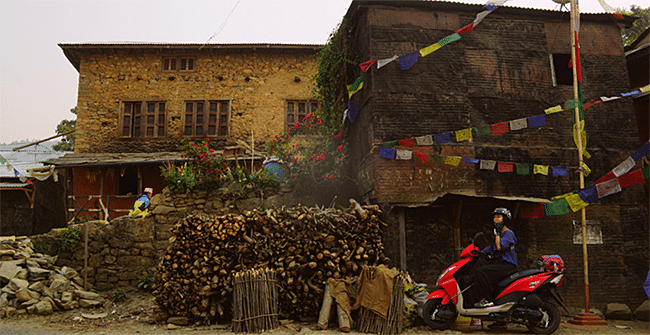 Driving is left-hand side.  Riding in Kathmandu city is a fun thing to do.  Do not forget to wear a helmet while riding.  Also, use your indicator while changing lanes and turning left or right.  Do not blow horn unnecessarily. Although there are traffic lights, it is not in use properly.  You will see traffic police giving signs.  Always maintain the slow speed.
Scooter / Motorcycle rental price in Nepal
In the future, if you are willing to travel here in Nepal, then you can opt to hire a scooter or rent a motorbike in Nepal for easy travel. We are located at the heart of the Thamel area (Tourist hub), Kathmandu.
The Hiring rate of scooters in Nepal starts from Rs. 700 per day (7 USD).  But if you are hiring a scooter for more than a week, then you will get a good discount. We will provide you an additional helmet with this price.  Also, if you are doing pillion, you can ask for extra helmet free of costs or with a minimal charge.  The scooter will have a half a tank of petrol/gas while you hire.  You can fill up your tank along the streets in Kathmandu. 
There are many fuel stations where you can refill your scooter.  It will cost you around Rs. 100 per liter.  Price may go up and down depending upon the world market. But as soon as you are on the outskirts of Kathmandu, you will find fewer petrol stations, so be prepared to make your tank full before starting your ride.  But before you hire a scooter, you can also have a small test ride, so that you can know the condition of the scooter.  We have our own service center.  Own service center means we will have a properly managed Scooters, Motorcycles after each rental.
Our Rates for renting Motorcycle (150cc to 411cc) is different, we have a different price starting from 10USD to 70USD (Nrs.1000 – Nrs.7000) per day. Different brands bike is available such as Royal Enfield, Honda, Bajaj, Yamaha, etc. You can get a proper list of ratings in our Motorcycle rental price in Nepal page.
We recommend scooter for City ride whereas Motorcycle is mostly for long trips.
Getting Around Kathmandu and Surroundings
After you hired your scooter, depending upon the days, you can choose your destinations.  There are many places in Kathmandu that you can reach riding a scooter.  Make sure that you make a list so that you won't skip any monuments on the way.  This way, you will save time and you can also visit many places in a short time.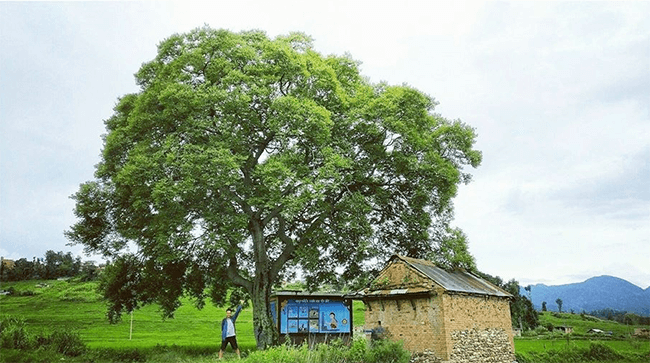 Mainly Swyambhunath and Kathmandu Durbar Square are the closest ones from Thamel.  It is just about 10 – 15 min of the ride from Thamel.  Other places that you can go to is Pashupatinath, Baudhanath, Patan Durbar Square, Bhaktapur Durbar Square, Kapan Monastery, Tistung, palung, chitlang, Khokana, Harisiddhi and Kirtipur.  All these places have a historical background and are the major touristic destination.  One day won't be enough to reach this place, so make sure that you spare 2 to 3 days or more to explore these areas. 
If you are willing to ride along the outskirts, you can choose destinations like Nagarkot, dhulikhel, Changu Narayan, Khokana, Lakuri Bhanjyang. These are the hillside areas and have a picturesque view.  
Visitors at Bhaktapur Durbar Square (Robin Dangol)
Riding towards this destination will make you feel like you are riding in the countryside through the green vegetation and forest with some typical village lifestyle.  You can stay overnight in Nagarkot and return the next day after watching the sunrise from the top of the hill.  Most of these points provide a good view of the valley and if you are lucky enough and if the weather is good enough, you will be able to get a panoramic view of mountain ranges. 
Do not forget to eat at the local hotels while you ride along.  They will serve you some authentic local foods at a reasonable price.  Make sure that you have a strong stomach to digest those cuisines.  The locals are friendly and always ready to help you to show around.  This will be a good choice to escape from the hustle and bustle from the city area.  You will get to feel the clean and fresh air while riding in these areas.
Some of the Recommend places to try food in Nepal.
Make sure that you have a full gas on your scooter, have data on your phone, a bottle of water and some snacks to eat if you didn't find any eatery in between your ride. 
Where to Park your bike or scooter? 
While you are on traveling, make sure to check Parking Spots / Safe parking space. You can ask any locals if you can park it or not. Make sure to handle lock the bike before you leave the bike on parking. 
Exploring around with the scooter will give you an extra adventure and a memory to share with your friends and families back home.  You will save money and time if you hire a scooter.  Hiring a private car will cost you more.  If you choose to commute to local transportation, then it is certain that you will lose most of your time in traffic.
We also have few tips for a motorcycle tour in Nepal, you can go through the link. Which will give you an idea on your first Nepal motorcycle tours.
How to make a reservation?
Most of our bikes & scooters are quite busy all the time with the limited availability so we recommend our customers to make a reservation before they landed in Nepal. For Reservations, we required 40% advance from the total amount, and the rest amount should be paid on arrival. For  more details, you can contact city motorbike or check our Faqs
Where we are located?
We are located on the main street of Thamel. From Airport by Car, we are just 45 Min away. While coming for hiring bikes, make sure to check google Map for our exact location or you can give a quick call and pass your car driver so that it would be easier for us to share the location.  We are 5 min away from Chettrapati chowk. Or check our google map for City motorbike location.
Hope this will be helpful for your next travel if you happen to rent a bike in Nepal.  If you have any queries, you can reach us.  We are ready to help you answer your queries. You can email us at citymotorbike.com@gmail.com
Follow us :
Facebook: https://www.facebook.com/citymotorbike
Twitter: https://twitter.com/City_MotorBike
Instagram: http://instagram.com/citymotorbike
– END OF THE PAGE –